After a flurry of activity a couple weeks ago, this past week was calm. I went to see Webb Chiles' presentation at the Richmond Yacht Club. That was good fun and inspiring. On the same day, at the suggestion of a fellow SSS'er friend, I visited the Berkeley Marine Center. She thought I should share my plans with Cree Partridge. And so I did. With the boatyard's staff having their lunch, I squared my butt in my little chair and proceeded to spill the beans about my ambitions.
To put things in perspective, on one side you have this guy who knows not much and claims he'll do one of the hardest thing in solo sailing with an inadequate budget (me), and on the other side, you have this crew who's been around and back, and then out again on oceans, with a vast amount of sailing experience. I felt naked as I proceeded. I had no plan for this meeting so I just went with the flow of my thoughts at the time. It was a good exercise. I don't like sharing about this project with fellow sailors or anyone for that matter. It's obvious that for now this is all just a pipe dream, and I don't like the idea that I am to a certain extent a bouffon, more likely to make a fool of himself than to set a new world record. So I had resisted her invitation to visit with Cree.
Plant a seed
In any case, that is done and maybe something will come out of this. I'd welcome the opportunity to get support from professionals. As we were standing in the open hull of a carbon 40 footer racer being built, I was thinking to myself: so that's what it's like to be a pro-sailor building a custom boat with sponsor money. Just for that experience, I think it was totally worth it. I guess that's what one feels when you get to the big stage, but you're really only there to set the mic stand for the performer … We also got to see other very interesting boatyard projects.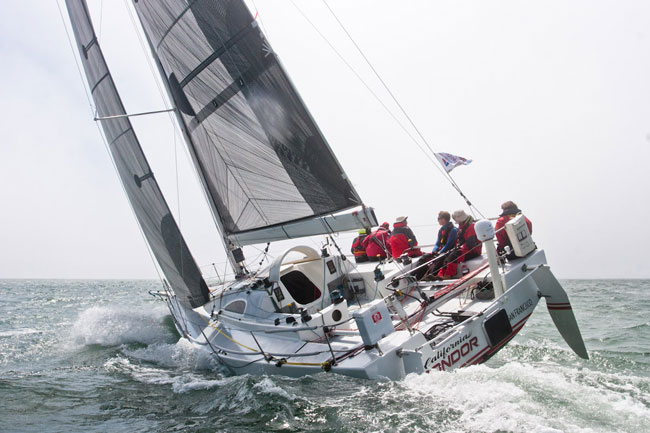 That's all for now. Things are in suspend mode for a month or so. I must admit the work grind is taking its toll these days …