When I decided to participate in this event, my intention was only to acquire more offshore sailing experience, as described here. Many great things happened during this journey, which led to my winning the 2018 Singlehanded Transpacific Yacht Race (SHTP). I am most humbled by this fantastic outcome. I hope it encourages you to try crazy adventures, prepare for them and come out happy at the other end.
I believe I came by the Singlehanded Sailing Society while searching the Internet for tips about singlehanded sailing. I joined their forum in May 2015. At some point, I decided to participate in the SHTP and started this thread in January 2016. It sat with no response for 3.5 months. Starting May I started receiving suggestions for boats and in July Adam (oceanslogic) mentioned Double Espresso. I checked the boat in September and went for a test sail mid December. Late January 2017 I bought her. Throughout that time I received supportive and not so supportive comments.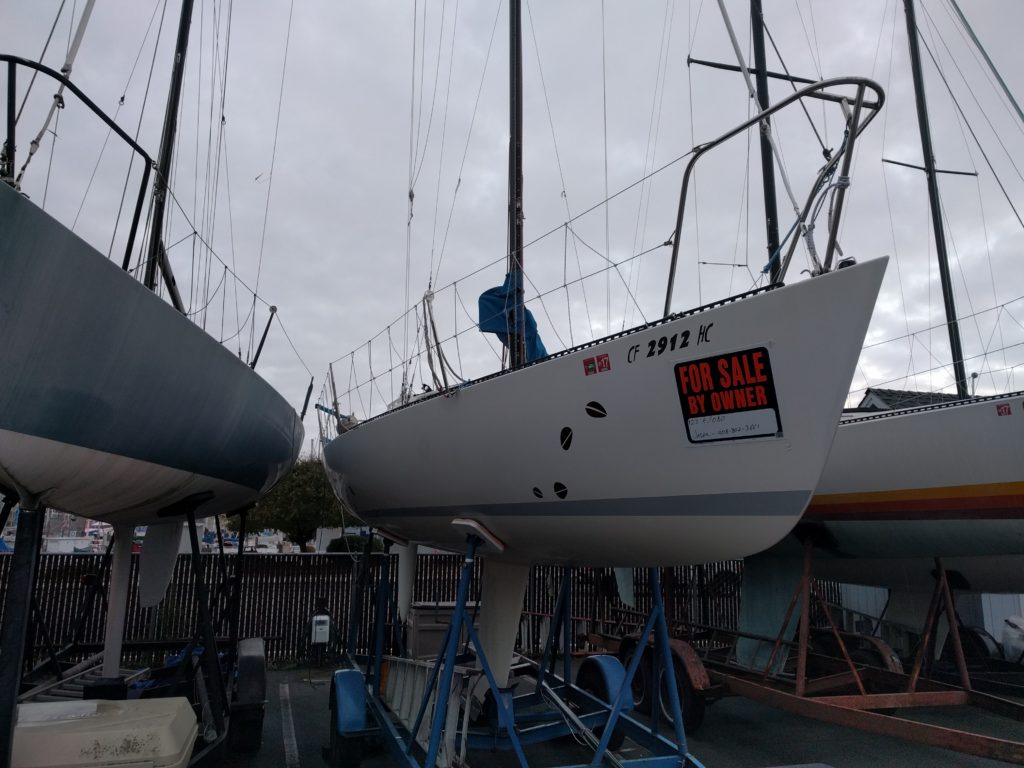 Key choices
The most important stuff to remember from that period is:
Buy a boat that's ready to go … or not: I chose to buy a boat that was ready to go for the following reasons, which I encourage you to seriously consider if you contemplate doing this race, even if you already have a boat:

I think I've heard it said that it takes on average 6 years for an SHTP hopeful to get her/his boat ready, on the starting line and out the Golden Gate on to Kauai (including some false starts). I didn't want to do that.
I had/have no experience with boat projects. I'd have gotten lost in the business of preparing the boat.
In hindsight the key benefit was that I didn't have to worry about the boat's readiness. Instead I spent time sailing. I may have paid more initially but what I really bought was time, time to sail with the boat I'd race with. And time is priceless.

Believe in yourself and don't let detractors derail you (I was advised to not do the SHTP because I was not ready). Assess your starting point, develop a training plan, follow through and pat yourself on the back once in a while. It's important to develop a positive mindset, just as important as learning to sail.
18 months of preparation
After that it was time to learn to sail Double Espresso (DE). I created a bunch of goals and sailed offshore in Santa Cruz for a while to progressively meet these goals. Mid March I sailed DE alone for the first time. Early April I had the spinnaker up for the first time. It's fun to remember how every time I went out I tried to tack up to the Coast a little further and how that seemed so intimidating; 9 months later I'd sail all the way to Richmond. I'm also impressed with the progress I made over time with simple things such as rolling the main alone.
Mid April 2017 I lost my job, which made room for more sailing. I didn't sail much more but I did have more time to think about the whole thing. I continued to ask for help and received more contacts, to whom I reached with questions and sometimes got answers. I was persistent.
Sailing Double Espresso offshore
Early June 2017 I sailed 80nm, 14 hours to mimic a race to the Farallon Islands. End of June I had another long outing and discovered the joys of surfing fast. Sometime throughout those days of sailing I was getting angry and I learned to manage anger better. It's not worth it; it's tiring and often causes more trouble.
In July I went to the UK for two weeks of Clipper training. As I read through my report here I can say that one thing hasn't changed: I'm a loner. I don't think so much that it's because I don't want to see people as I don't think people want to see me. I think I fail at building relationships. Anyways … it is what it is and I've learned to live with it.
End of August I did my qualifier, which was done more as a formality than anything else. I only wanted to "pass" and didn't do much during the sail. When I was slow I didn't care …
In September 2017 I started looking for buyers for DE in SF, LA and HI. And in October I sailed the South Atlantic Eastward with Clipper. In November 2017 I wrote about sailing around the world solo for the first time. Late December I sailed DE to Pt Richmond (from Santa Cruz) and proceeded to learn to race with the SSS races. Sailing in San Francisco Bay there were several close calls with markers I hadn't seen.
6 months before race start
There were plenty of small projects along the way and at some point I decided to significantly slow down the spending. I also picked up the SailGrib app for weather routing.
In February 2018 I decided to cancel my participation in Leg 6 of the Clipper race. Mid March is when I truly realized that I needed to work on mindset and learn to see things positively, all the while remaining OCD about everything. I also went on a minimalist fitness program. On 03/22/2018 I started a count down to race day and built up checklists. My visits to the marina accelerated during those few months leading to the race start. From my beginning days in Santa Cruz every outing was work, a lot of work, alone; that probably helped build a bit of endurance.
As I've written many times, besides receiving advice from a lot of people, for which I am grateful, I also did a lot of reading throughout those 18 months of preparation.
Late April I started considering that the SHTP is, in fact, a race and ponder what I would do about that, which further launched me into "mental research". At that point, boat wise, I was ready, except for pre-race prep (loading equipment and provisions mostly), and spent the last 4-6 weeks focused on "inside jobs".
Two weeks away from race start I engaged my "two weeks pre-departure checklist". And then race day came.
Post race recap
What follows is what I wrote on the SS forum, which summarizes how I feel about how the race played out.
I'm stunned. I don't know how long it's going to take for me to process the race; two things are certain: I didn't do it alone and it was a great year for an Olson 30!
Without the SSS this wouldn't have been possible. I'm very grateful that this community exists and for the sailing opportunities they provide. The Race Committee has been very welcoming and professional. I'm very proud to be a tiny part of this community.
So:
The boat suffered no damage thanks to a solid preparation by the previous owner Jason L.
My sail plan for 95% of the time came recommended to me by Skip A: a poled out #2 and full main. Without this I would have been underpowered.
Navigation to Point A was also Skip's handy work.
Without Jim Q.'s advice to get a generator I would probably still be out there
Skip A. again coached me on many aspects of the race.
Brian B. provided much support and advice on a regular basis, appeasing my anxious mind.
I didn't do it alone
And there were a lot of experienced sailors who helped me with advice: Bruce L., Rich F., Joe B., David H., Rob T., and I'm sure I'm forgetting a few while my brain remains foggy. The SSS resources were also very helpful: Andrew S.'s book, Stan H.'s weather advice as Skip A's weather advice.
As most racers' track show it was mostly a DDW run once I jibed away from the high. The wind was often above 15 kts, which worked really well for my sail plan. The Olson 30 just loved it and proved a wonderful, powerful vessel for this year's weather.
I am also acknowledging that Don on CRINAN II is the better sailor. If it wasn't for the numerous equipment failures he had to endure he would have won. I am amazed at the feat he pulled off by hand steering so much.
I feel very fortunate to have met so many wonderful people and to have been at the right place at the right time with the right boat and all the right advice. Thank you!
And I did work hard
My part could be summarized as follows:
Ask for advice, ask for advice, ask for advice …
Keep the boat light.
Keep the bottom as smooth as possible.
Stay super conservative to avoid damage.
When things went wrong (wind hole at start, jib wrap, AP failures, battery charging with generator, …) my main goal was to get the boat pointing in the right direction at the best speed possible ASAP.
Constantly monitoring weather (Grib files, weather charts multiple times a day) and (not) adjusting course.
Constantly monitoring wind angle and adjusting sails or heading to keep VMG up.
Staying focused on the race all the way until the end (never give up).
Taking care of myself: eat, drink, sleep, communicate, write things down.
Keeping the boat in good shape through twice a day boat checks.
Start in a very relaxed, happy state of mind.
It was hard, physically and mentally. I do think however that I have achieved my main goal: would I do this again? Yes! Not right away though and something else most likely.
It does take a lot of energy over a long time. For now I'm selling Double Espresso, giving her a new home in a wonderful place, where she will be sailed and loved. What happens next in terms of sailing? I don't know. I have a new job to start, a volunteer position to take over at my daughter's school PTA and a lot of stuff to sell.
Thank you (to everyone), thank you (for perfect weather for my circumstances), thank you (to myself of 2 years ago for embarking on this journey).
Lessons learned
I won't re-hash what I said already about the race itself, except to say that a few weeks ago it dawned on me that this will always be with me: I will always have won the SHTP 2018. And that is cool and humbling.
I would like to suggest a simple motto for anyone looking to prepare. I'm not an expert; I worked hard, got help and got lucky but I did learn that these 4 things matter when going off-shore:
Simplicity
Practice
Attitude
Redundancy
A simple acronym to remember … SPAR.
In February 2017 I wrote:
"I'm starting to feel the excitement, the rawness of what I'm embarking on. I don't really find much pleasure in all that preparation stuff but the thought of being out there, bobbing around on oceans, that's moving my soul … Or maybe I'm a romantic and once I'll be out there for a couple of days I'll go back to day dreaming. There's only one way to find out …"
What will you find out?
If you wish to read the whole blow by blow story: follow this link to the blow by blow story of my preparation for the race and post-race thoughts, videos and other fun stories. 65 pages with 200,000 views!