SIRIUS EVENEMENTS has announced a double-handed race for Class40 sailboats. It is quite an exciting development and I encourage readers to check out their press release and race plan. I had heard that there were ongoing conversations about an RTW race for the Class40. I had even heard that there were possibly two events brewing. So far only one has been announced and I think it's likely to be the only one.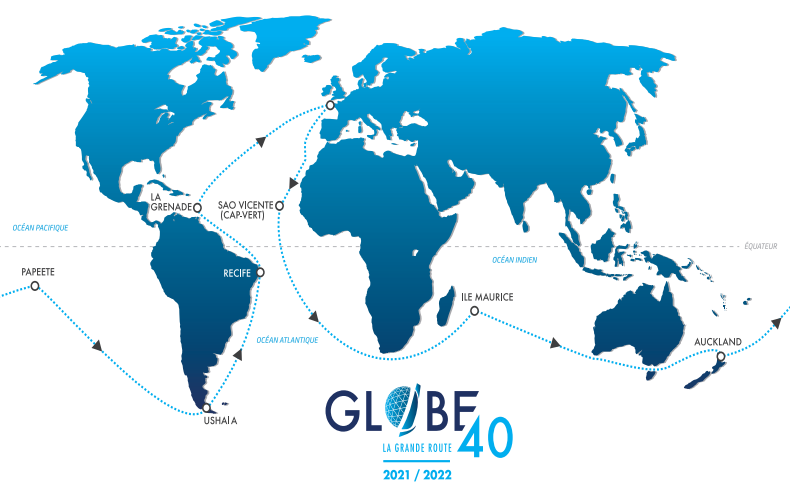 Although a RTW race, the course appears to be laid back, compared to a Vendee Globe or even Open40/Class40 predecessors such as the Around Alone and Global Ocean Race races. It will have 6 legs and will take almost 2 years to complete. You read that right: 2 years!
I'm not sure what to think of this. Can you imagine the middle aged husband with 2 kids saying: "honey, I'm going sailing, I'll be back in two years"? It's certainly not for my budget; it's also not what I aspire to do. I wonder what sort of pressure it will put on the used Class40 boats market, if any.
In other news
Other than the news above, the owner of Anasazi Girl changed his price to $80,000, which is $25,000 more than I can afford for his boat. I've been in touch with one guy in Hong Kong about the boat out there. The prospect of managing the refit to sail that boat to San Francisco is quite daunting. Impulse #25 had signed up for the Bermuda One Two, but he turned around due to a blown solent and possibly mainsail damage/performance issues. That's too bad; I was really looking forward to his progress (he was behind the other 4 Class40s that had signed up but by not much: I think 3 miles over 40 when I last checked). It does highlight the problem with (un)used boats: what's going to break next?
For the foreseeable future, my sailing plans are crewing on the following boats: a moonlight marathon in San Francisco Bay (likely light air) on a J-92, another race in the Bay on a Farr 30, maybe a race to Half Moon Bay on an Olson 34, and the LongPac in a Cal 2-27 (pictured below, 6 years younger): a busy month of June/July.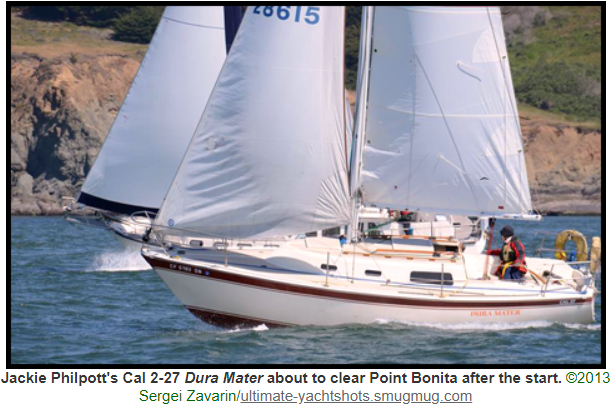 That's all for now …