This page will track a virtual attempt at circumnavigating Earth.
Going home now
It's still a very long way though.
3/11: 49 S 79 W. Sticking close to the continent to be at a better angle to the waves and avoid the worst. We'll go West later.
3/12: 47 S 79 W.
3/13: 44.5 S 79 W.
3/14: 42 S 79 W.
3/15: 39 S 80 W. Continuing North. Still to avoid the big seas.
3/16: 36 S 81 W.
3/17: 34 S 82 W.
3/18: skipped routing yesterday evening, did it this morning. 36 S 81.5 W. Look at this guy, I will watch to see how he handles the big seas coming his way! https://m.facebook.com/2oceans1rock
3/20: skipped a day again, 36 S 82 W, running with the swell.
3/21: 34 S 85 W.
3/22: I think we're out of the worst now and it's a matter of figuring out how far west to go. 33 S 87.5 W.
3/23: 31.5 S 89 W.
3/24: 29.5 S 90.5 W.
3/26: 27 S 94 W.
3/27: 25.5 S 95.5 W.
3/28: 24 S 97.5 W. Picked a waypoint more West for the doldrums crossing.
3/29: 22 S 100 W. No rain for a while.
3/30: 21 S 102 W.
3/31: 19 S 104 W.
4/1: 17 S 107 W.
4/2: 16.5 S 110 W.
4/3: 14 S 112 W.
4/4: 11 S 114 W.
4/5: moved waypoint again to 20 N 133 E. 8 S 115 W.
4/6: 5.5 S 116.5 W.
4/7: 3 S 118 W.
4/8: 1 S 118 W.
4/9: 0.5 N 120 W.
4/10: 2 N 122 W.
4/11: 4 N 124 W.
4/12: 5.5 N 124 W.
4/13: 7 N 124.5 W.
4/14: 9 N 124.5 W
4/15: 11.5 N 125.5 W.
4/16: 14 N 127 W.
4/17: 16.5 N 128 W.
4/18: 19 N 129.5 W.
4/19: oops, skipped a day or two …
4/21: 22 N 131.5 W.
4/22: 25 N 133 W.
4/23: 28 N 134 W.
4/24: 31 N 135 W.
4/25: 31.5 N 133 W.
4/26: 33 N 132 W.
4/27: 34 N 130 W.
4/28: 35.5 N 128 W.
4/29: 37 N 125 W.
4/30: talk about perfect timing. We're hitting the Golden Gate bridge just before the tide goes slack and the ebb begins! Nice welcome 😁
To Cape Horn
It's about to get messy!
2/4: 31 S 34 W.
2/5: 32.5 S 36.5 W. Next Saturday looks promising!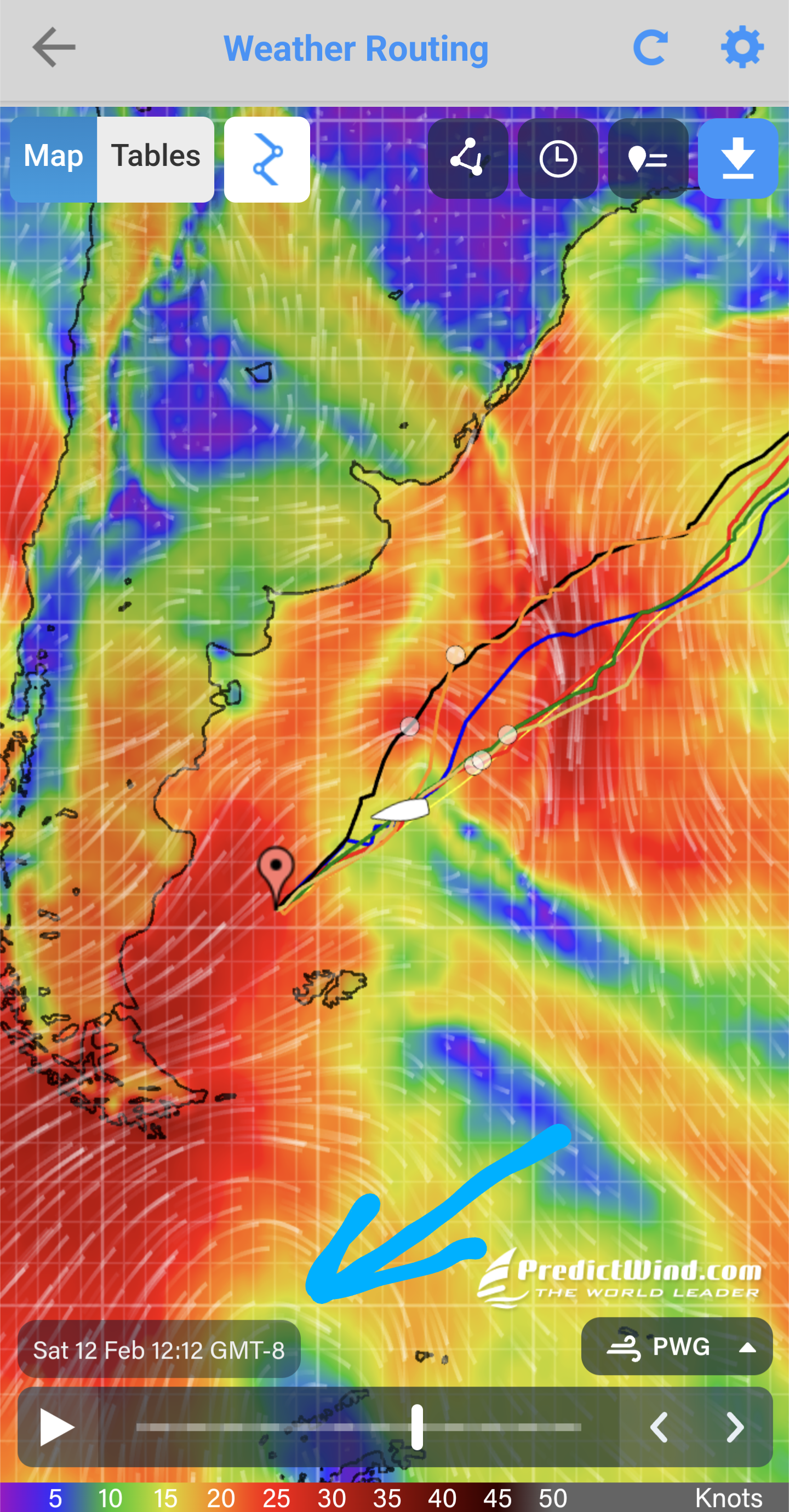 2/6: 35 S 39 W. Dipping South, hitting a wind home soon. And rain! Still warm, sea building up.
2/7: 36 S 41 W.
2/8: 36 S 43.5 W. Not going as far South as the routing suggests, with the intent to maybe avoid headwinds. But things don't look great.
2/9: 36.5 S 45.5 W. 10 days or so from Cape Horn.
2/10: 37 S 46 W. Light winds?
2/11: 37.5 S 48 W. We're getting rain soon, still warm weather and reasonable seas but lighter winds. The forecast for the Cape is not attractive. Not slowing down yet.
2/12: 39 S 50 W. What to do, what to do?!?
2/13: 40.5 S 51 W.
2/14: 41 S 54 W. May need to slow down 48 hrs to get to Cape Horn by Tuesday instead of Sunday. Moving more East than routing suggests.
2/15: one thing I forgot about are the fishing fleets. Hundreds of boats lining up. 43 S 55 W, slowing down.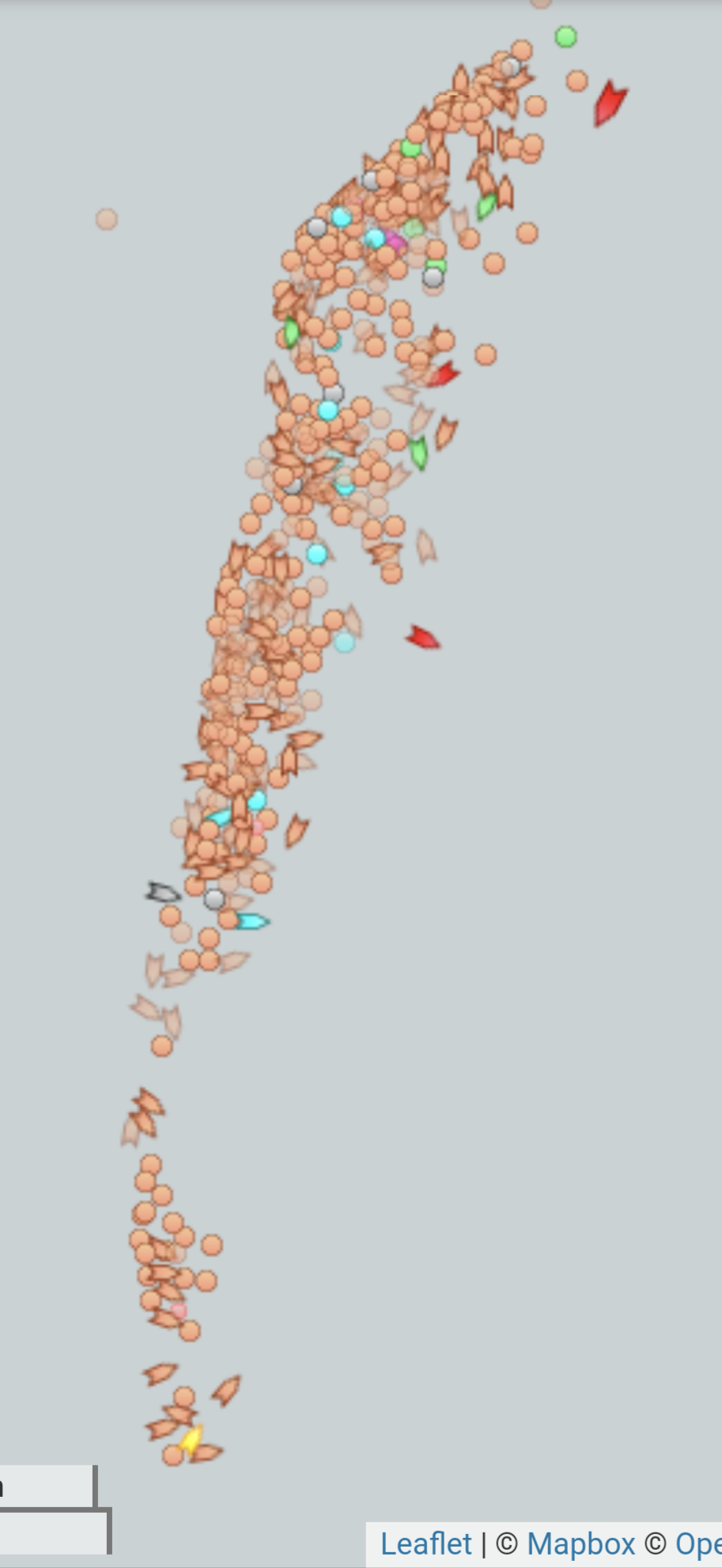 2/16: 45 S 56 W.
2/17: 47 S 57 W. Not looking good …
2/18: 49 S 59 W. Descending …
2/19: trying to slow down. 50 S 61 W.
2/20: heaving to, waiting. Things don't look attractive. I could cross but what's waiting for me on the other side ain't pretty: 12 meters wave!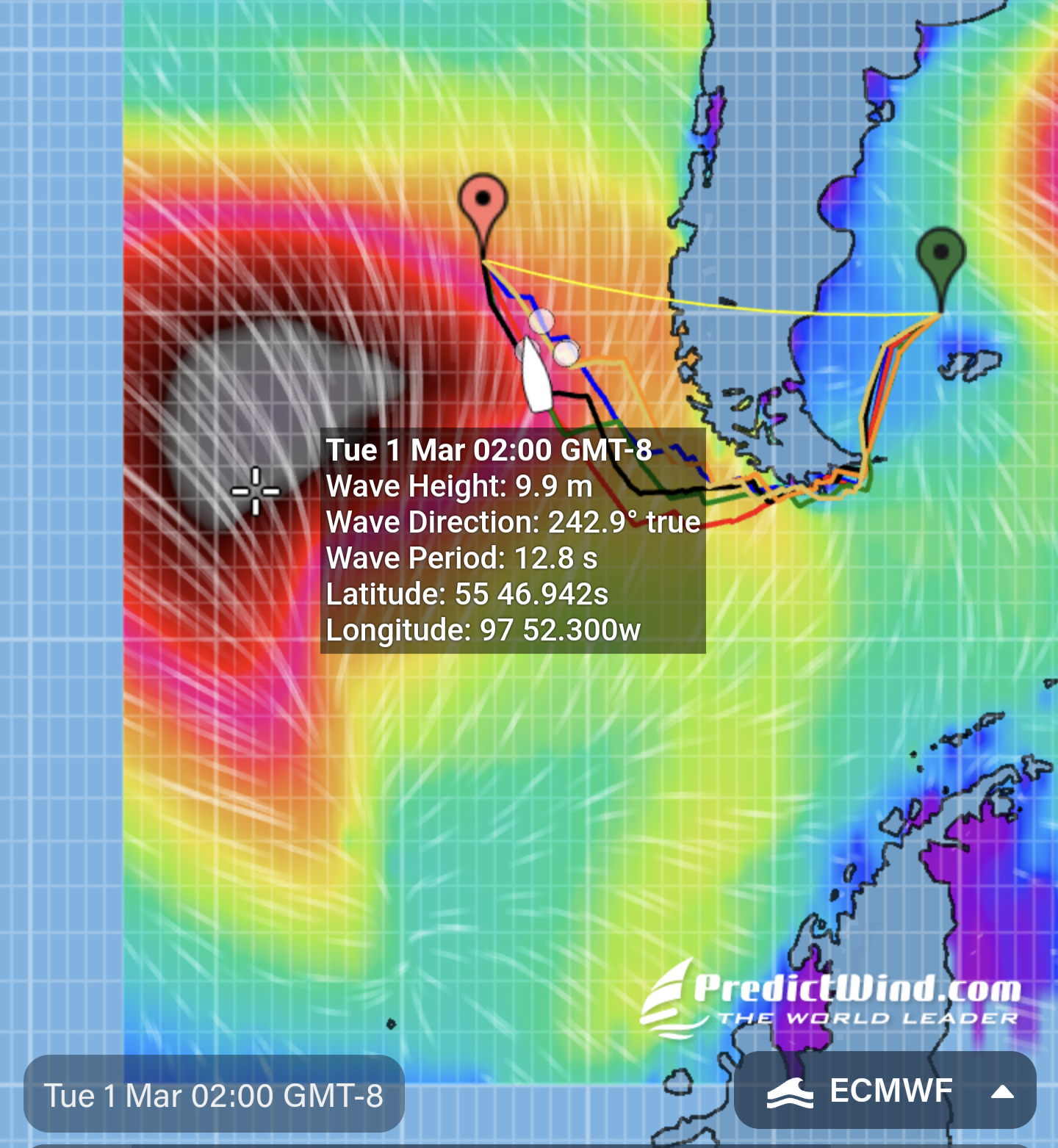 2/21: 51.5 S 62 W. Going for it.
2/22: 53 S 63 W. Likely will have to wait.
2/23: 54 S 65 W. I may cross.
2/24: 55.5 S 66 W. Not sure it's a good idea to cross as those monster waves are back on the program.
2/25: 56.25 S 68 W. Well, that plan is go West, staying South, hoping to run in front of what's coming!
2/26: there is the option of ducking South to avoid the big seas on the forecast but that doesn't seem reasonable. I'm restarting to the Falkland Islands to anchor it out but will keep track here of what things could look like to go South. 51 S 71 W upwind.
3/4: 57 S 66 W. I've learned a few things thanks to Magnus and Chris. Systems don't always go north of Cape Horn, which means I need to wait those out. There are many small anchorages in the area. So let's say that I waited it out by Staten Island. I'm now ready to go again, dipping under one system North, and then, well, we'll see.
3/5: 57 S 69 W.
3/6: 56.5 S 71 W.
3/7: 55.5 S 74 W.
3/8: 55 S 77 W.
3/9: 52 S 78 W.
3/10: 50.5 S 78 W. Climbing North to avoid worst sea state. We'll bend back West around 45 S.
To South America
1/10: 33 S 16 E.
1/11: 32 S 13 E. No rain … By early morning we should get downwind again.
1/12: 31.5 S 10 E. Hard to figure out next steps!
1/13: 31.5 S 7 E.
1/14: 31.5 S 6 E. Still not sure what to do …
1/15: 29.5 S 5 E. I'm moving up North, not following routing.
1/16: 28 S 4 E. Going north against routing.

1/17: 27 S 2.5 E. I wonder how things would be in real life out there.
1/18: 26 S 0.5 E. Shitty.
1/19: 24.5 S 1 W. Things are getting more clear.
1/20: 22.5 S 2 W. Routing continues to push us North.
1/21: 21 S 4 W. Some light rain maybe, 20+ Celsius.
1/22: things appear to be steadier! 20.5 S 6.5 W.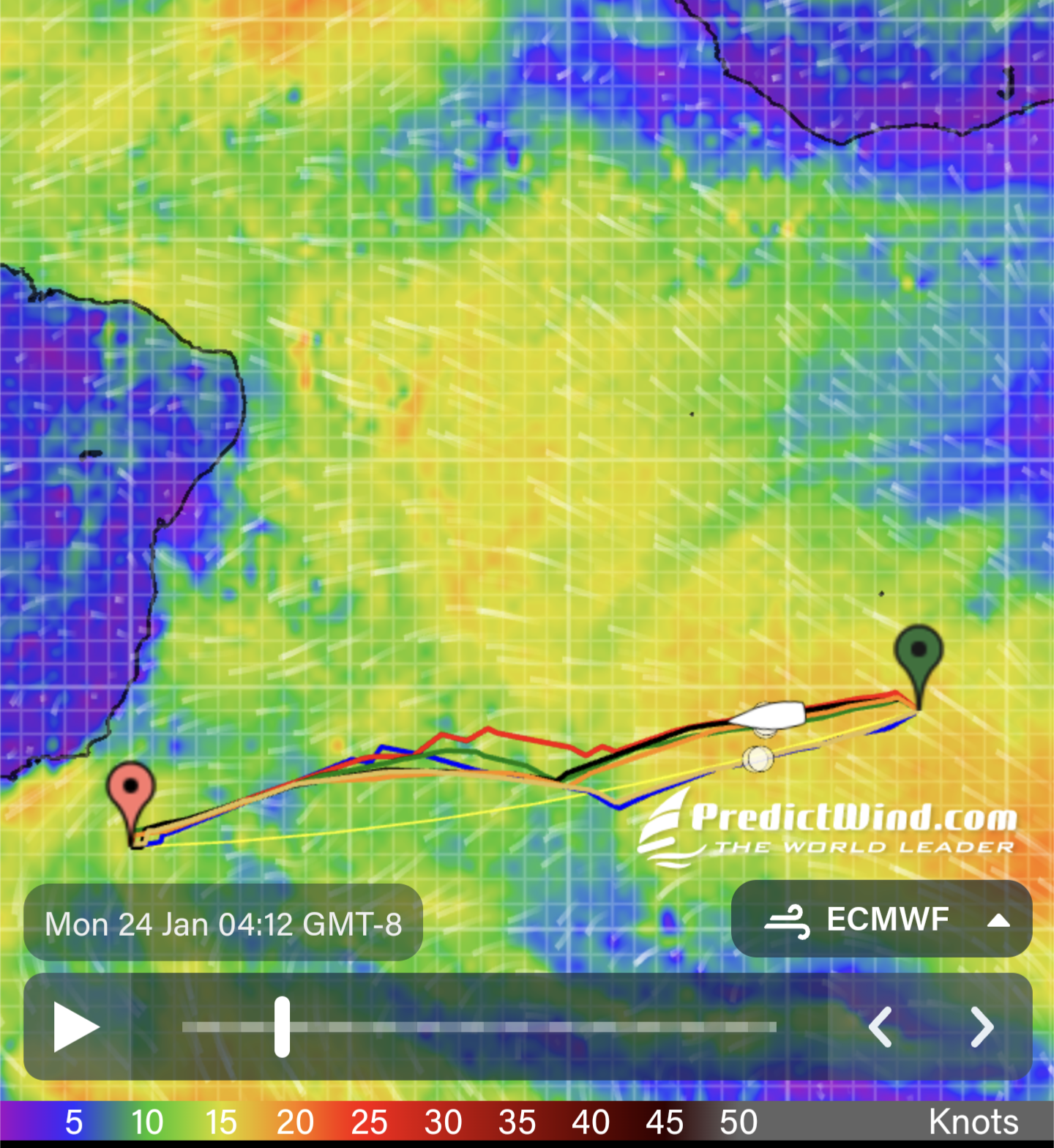 1/23: 21 S 9.5 W. Good spending conditions again. I moved the waypoint …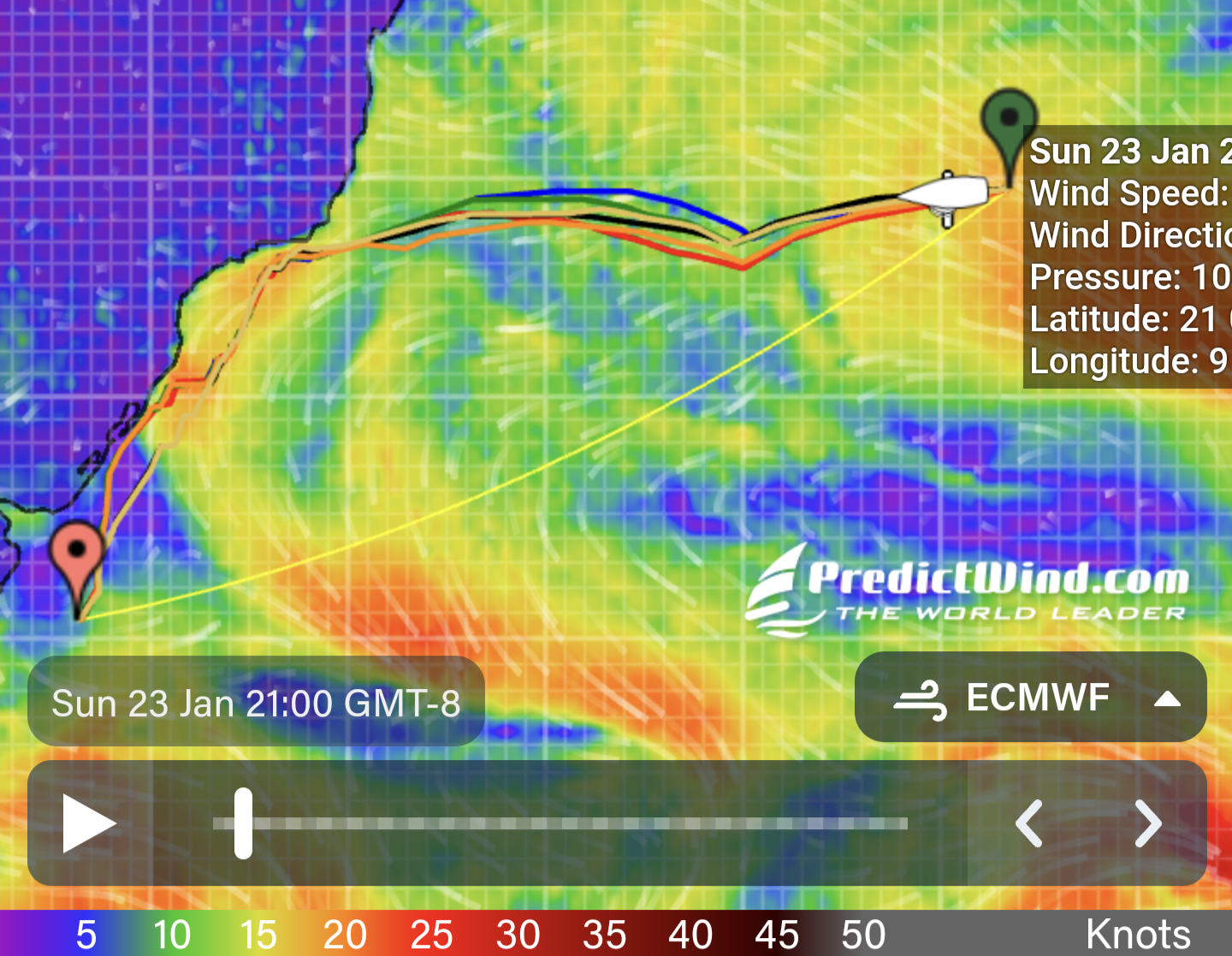 1/24: 21.5 S 12.5 W. Moving fast downwind.
1/25: 22 S 15.5 W. Models disagree on routing so I'm taking the in between route.
1/26: 23 S 18 W. Models concur again.
1/27: models have me going South but I think that's going to get me in big seas and I'd rather avoid that for now. 23 S 20 W.
1/28: 23 S 22 W. Messy forecast, diverging routes.
1/29: 24 S 24 W. Dipping but staying further North than models suggest.
1/30: models keep pushing me South, in particular ECMWF but in resisting. 25 S 26 W.
1/31: oops missed a day again. 26 S 28 W.
2/1: 27 S 30 W.
2/3: missed a day again … let's say it was a repair day. 29 S 32 W.
Approach to Agulhas
12/28: 28 S 54 E. I'm not dipping South as most models suggest. Things aren't looking great for the approach with westerlies going against the current.
12/29: powerful reaching, 27 S 51 E.
12/30: 27 S 49 E. Slowing down as the crossing doesn't look good.
12/31: 27.5 S 46 E. Things seem to improve but we're still going to be sailing upwind in strong current.
1/1: oops forgot to update yesterday! 27.5 S 44 E.
1/4: what's up with me? I forgot to update my track 3 days now! Let's assume I got to 29.5 S 38 E by 8pm 1/3. But lucky me I'm getting easterlies to cross! 30.5 S 35 E.
1/5: 31 S 32 E. Looking real good!
1/6: 33 S 29 E.
1/7: the situation in the South Atlantic is messy. It's not clear how high I should go. 35.5 S 24 E. For now we're just sailing fast to pass Agulhas. Temperatures are dipping below 20 C, sea state at 6-10 feet, no rain on the week horizon (hopefully I refilled!).
1/8: sailing fast. 35 S 20 E. Still messy in the Atlantic. Strong attraction to go West but that may mean upwind sailing in gales. So it's North West with the next waypoint at 24 S 29 W.
1/9: we're in the Atlantic! Beating up along the Coast for 24-48 hours. 34.5 S 18 E.
Onto Madagascar
11/23 9 pm (SF): I skipped a day as I flew back from France. 12.5 S 129 E. Very light wind. While in transit I missed the formation of hurricane Paddy!
11/24 9 pm: 13.25 S 128.25 E.
11/25 9 pm: 13.5 S 127 E.
Oops I skipped a day … No big deal as wind are light anyway.
11/27 9 pm: 13.5 S 126 E.
11/28 9 pm: 13.75 S 124.5 E.
11/29 9 pm: models disagree. 14 S 123 E. Very light. And hot! No rain. Difficult conditions until Friday.
11/30 9 pm: possibility of 92S to strengthen. Models disagree with routes splitting early tomorrow morning. Observations seem to favor GFS. 15 S 122 E.
12/1 9 pm: continue watching 92S. Going South seems to have been the good choice. 16 S 120.5 E. Continuing South. Sailing straight into the short swell. Rough I'm sure.
12/3: oops missed yesterday … Let's say we moved two degrees West yesterday. 16 S 116.5 E. 92S gone.
12/4: 15.5 S 114.5 E. Back into good winds! TC in the North indian.
12/5: 16 S 112.5 E. Models disagree.
12/6: wind hole with a sizeable swell on port beam. 16 S 110.5 E.
12/7: 16.5 S 108.5 E.
12/8: 16.5 S 106 E. Skirting under TV 02S "Teratai".
12/9: 17 S 103 E. Still behind Teratai.
12/10: 18 S 100.5 E. Same same.
12/11: 17.5 S 97.5 E. Teratai is gone and we have strong trade winds!
12/12: 17.5 S 94.5 E. Solid trade winds. No hurricane concern.
12/13: 17 S 92 E. Same same.
12/14: 18 S 89 E. Same.
12/15: 19.5 S 86 E. Some models continue South, some say inch northward.
12/16: 19.5 S 83 E. Same problem. I'm staying on the same latitude until models agree. It's also time to start thinking about the approach to the Cape.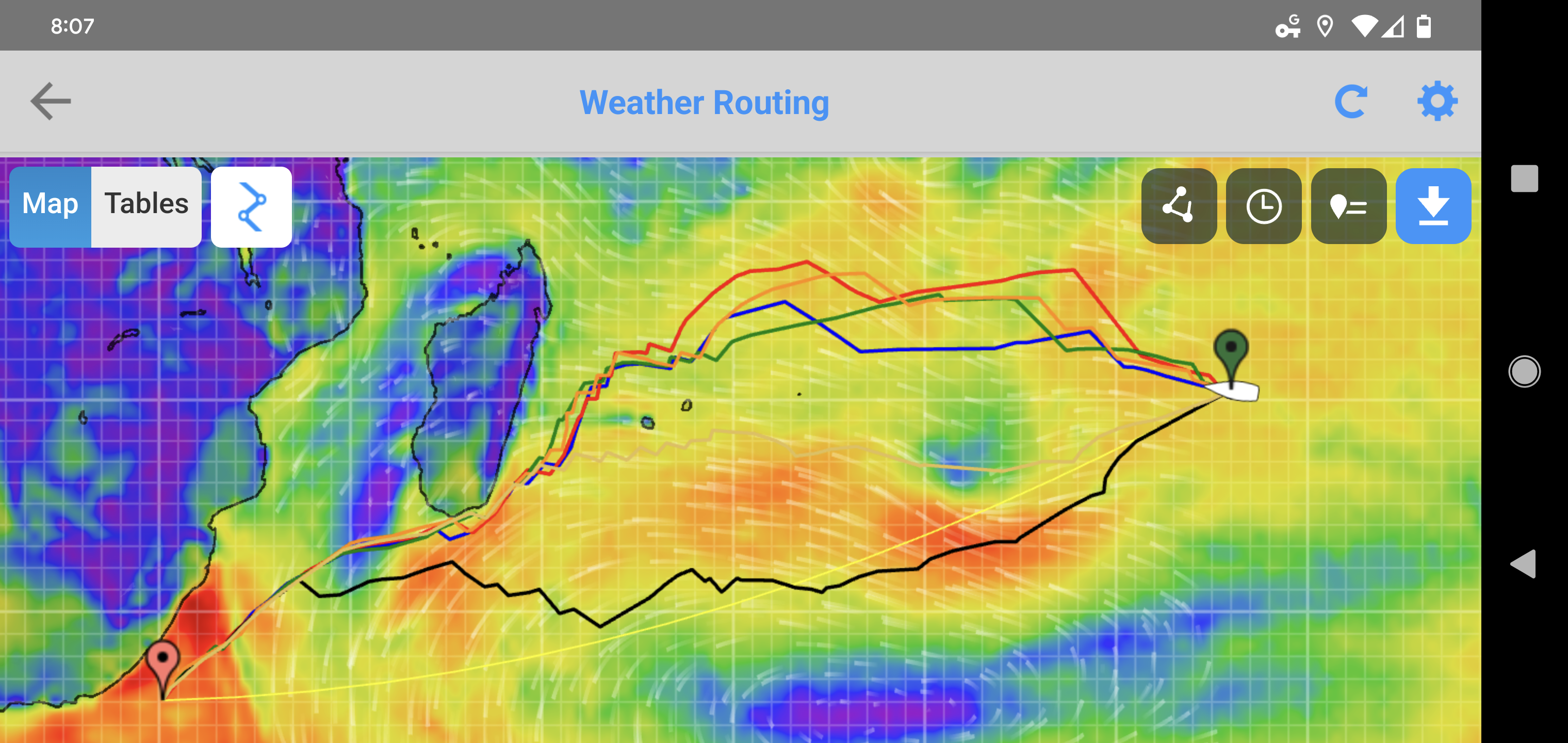 12/17: 19.5 S 80 E. Same uncertainty, continuing straight. Looks like a lot of instability ahead of us.
12/18: 21 S 78 E. Four models agree on going South. So we're dipping … It's going to get slow again.
12/19: looks like going South was the right bet but we made our move a little late so we're stuck in a vacuum. 22 S 77 E.
12/20: 23 S 75 E.
12/21: 23.5 S 73 E.
12/22: 24 S 70 E.
12/23: 25.5 S 67.5 E.
12/24: 26.5 S 65.5 E.
12/25: 26.5 S 64 E. It's messy, sailing upwind in 6 ft waves. And things aren't looking great for the approach to the Cape, with winds blowing from the West.
12/26: 26.5 S 61.5 E.
12/27: 27.5 S 57.5E. Power reaching then downwind again. 7-10 days away from Cape Agulhas.
Getting to Torres Strait
11/07 9 pm: 10.5 S 160 E. Light conditions but rainy and maybe thunderstorms too. It looks like getting into the Indian Ocean will be a very slow affair.
11/08 9 pm: 11.5 S 158 E. It looks like good trade winds but there are no observations in the area to confirm. Maybe some rain.
11/09 9 pm: 12.5 S 156 E. Good trade winds but no observation to confirm.
11/10 9 pm: 13.5 S 154 E. Similar conditions with good trade winds forecast.
11/12 10 am: I was in transit and didn't look into this for a couple of days. Let's say I got to 13 S 150 E.
11/13 9 pm GMT+1 (I'm in France): we will hit a patch of light mind then good trade winds again. 12 S 148 E.
11/14 9 pm GMT+1: 11 S 145.5 E. Trade winds filling ahead of us, good stuff! Maybe some rain.
11/15 9 pm GMT+1: let's just say that we've arrived at the "Bligh entrance": 9 S 144 E. We've turned into the channel to Torres Strait. I forgot to report to REEFVTS, which can be done by VHF. It looks like we'll have steady winds to cross. Here's to hoping AIS is still working. Little sleep ahead!
11/16 9 pm GMT+1: and we're through under steady winds. I didn't look at tidal currents though. 10.5 S 141.5 E. We should continue to have good wind to cross the Arafura Sea. No hurricane ahead.
11/17 9 pm GMT+1: 10.5 S 139 E.
11/18 9 pm GMT+1: 10.5 S 136 E. Good conditions.
11/19 9 pm GMT+1: 10.5 S 134 E. Good conditions, maybe thunderstorms. Two suspect zones in the north Indian ocean.
11/20 9 pm GMT+1: 10.5 S 132 E. Most likely lighter winds astern, and rain.
11/21 9 pm GMT+1: 11 S 130.5 E. Oops, wind hole tomorrow! Best to stay out of land! On the other hand wind is forecast to be close to land 😂
Day 24 – 10/23/2021
We should be getting some steady trade winds soon now and we're clear of thunderstorms. If conditions allow we probably have the big spinnaker up.
2 N 174 W
Day after (10/24): 0 N 174
We continue to see good trade winds, landing us here on 10/27/21 9 PM:
2 S 179 W
10/28 9pm: 2 S 180 E
10/29 9 pm: 2 S 179 E, moving slowly as we're in an area of very light winds and high temps (but no rain). High chance of a tropical storm in South Indian (93S).
10/30 11 pm: 3 S 178 E, slow, hot, no rain. 93S seems to consolidate.
10/31 9pm: 4 S 176 E. 5-10 kts. 93s not expected to develop.
11/01 9pm: 6 S 174 E. Light trade wind should develop again late tomorrow, for a few days. 93S gone.
11/02 9pm: 6 S 172 E. Light again, current conditions have us going West. That said observations (see windy.com) seem to show that there are stronger winds in the area, varying with the day from 6 (night) to 14 kts (day).
11/03 9pm: 6.5 S 169 E. Good trade winds, 8-14 kts based on island observations (windy.com). Still no rain and hot. No hurricane activity in the South Indian.
11/04 9pm: 8 S 166 E. Same conditions.
11/05 9 pm: 10 S 164 E. 6-12 kts based on observations. Maybe some light rain.
11/06 9 pm: 11 S 162.5 E. There may be value in crossing between the two lower Solomon Islands as a funnel effect may boost the wind (between San Cristobal and Duagalcanal). Good conditions. Same.
Day 23 – 10/22/2021
Things are not looking good. I say we haven't moved much 4 N 172 W. And we're very close to an area of heavy thunderstorm activity (or looking at satellite images, we're right at the periphery of it, inside). If there's a lesson is that the crossing may have been a bit too far West.
Day 22 – 10/21/2021
Oops again, forgot to update our position yesterday. Well, we'll just assume that I was slow or I had to deal with something and use our last position regardless (losing 19 hrs of progress). Conditions are not favorable for fast progress. And we may still be hit by thunderstorms.
5 N 171 W
Day 20 – 10/19/2021
It looks like a struggle staying in light variable winds. And it looks like it'll stay like that for at least 5 days. A difficult passage to get to the entrance to Torres Strait.
7 N 171 W
Day 19 – 10/18/2021
Light and variable winds is what the models show; rain too but it looks like we may have skirted the worst of thunderstorms. We're likely slow, and hot. And it looks like that will be our lot for 1-2 weeks. Tomorrow at 21 PM:
9 N 170 W
Day 18 – 10/17/2021
Ooops, it looks like I forgot to update my progress. Well, let's say we'll reach our planned position of 11N 169 W at 21 PM. It looks like it'll be a slow passage and we're a little too far West to be in good wind. The sea is not flat at 3-5 feet. It's hot and it rains.
Day 15 – 10/14/2021
I can't say that the stop behind Big Island helped that much after all as it doesn't seem that we'll be able to completely avoid the thunderstorms. Windwise we may be lucky though. This is only a forecast, which is not telling us anything about actual conditions. Position at 21 PM tomorrow:
16 N 160 W
Still no hurricane on our projected path. There's now an 87% chance of La Nina.
Day 14 – 10/13/2021
I say we stay behind Big Island until 11 aM tomorrow (8 AM local time).
Day 13 – 10/12/2021
We're now in the lee of Big Island. The idea is to stick around here for 24-36 hours and then make our way down to 11N 169 W by Sunday night. Hopefully, that will make for a narrow doldrums passage with no thunderstorm.
After that, we should be able to make our way to the Santa Cruz Islands in moderate and variable trade winds, and avoid what appears to be a very large area of thunderstorms over the Vanuatu islands. Navigating will require looking at the paper charts now to ensure keeping a global vision of what lies around us.
Day 12 – 10/11/2021
At the current pace, we'd hit the doldrums Friday. But they look very active with thunderstorms galore. Things appear to ease out 3 days later, favoring a crossing on Monday. At this point, I'm easing out and choosing to sail behind Big Island, to rest in the lee of the island, and possibly affect a few repairs.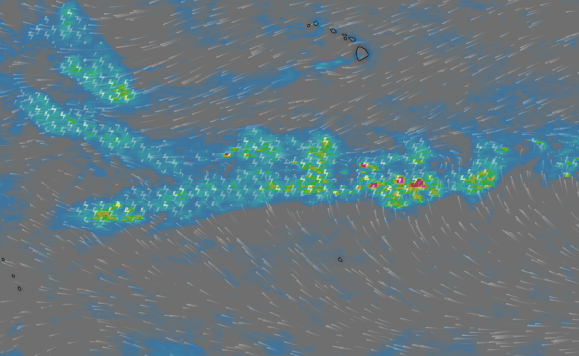 With that in mind, our 9 PM position tomorrow will be:
21 N 155 W
Day 11 – 10/10/2021
Same conditions, solid trade winds leading to the following 21 PM position tomorrow:
21.5 N 152 W
The doldrums area appears very stormy (lots of thunderstorms on the forecast). I wonder if I would choose to slow down to get there a few days later. That or sail further West before crossing, or both. On the other hand, it looks like in terms of wind I'd have a good chance at a narrow passage. This is where advice from a weather router would help, I'm sure.
For now, we continue to sail towards Big Island's East corner, and away from it.
Day 10 – 10/09/2021
Same conditions, which see us here at 9 PM tomorrow:
24 N 150 W
We may catch up with a large patch of thunderstorms Monday/Tuesday. It looks like the doldrums will be full of thunderstorms too.
Day 9 – 10/08/2021
Not much change in conditions. Tomorrow 9 PM position:
27 N 147 W
We should carry on like this until Thursday, on port tack in 20-30 kts trade winds and following seas. We may see rain again Monday for sure Wednesday. Air temperature will be climbing to 28 C. We should hit the doldrums late Thursday. There appears to be quite a lot of thunderstorms on the forecast.
Once on the other side it looks like lighter more variable trade winds.
Day 8 – 10/07/2021
6 PM position tomorrow:
29.5 N 145 W
It's hard to tell how nice the doldrums will be when we get there. If anything I should be even more West.
Day 7 – 10/06/2021
We're now in solid trade winds 20+ gusting 25-30, on port tack TWA 140-150. If I feel good I may have the spinnaker up or maybe the gennaker or even the jib top. Or maybe I change sail for the night. It looks like we're avoiding the worst of the rain; day temperature are 20 degrees Celsius; sea state shows 2 meters average wave height. PW shows us gybing to make some westing Thursday.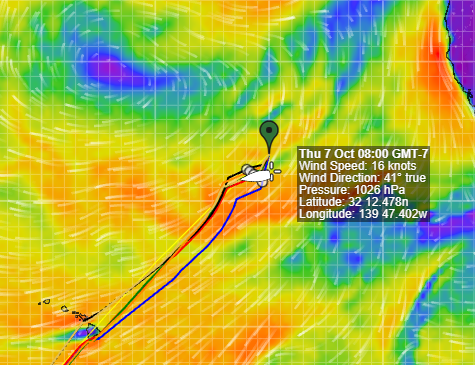 The doldrums passage continues to look attractive using ECMWF and GFS models, if wet. It looks like we may avoid the worst of the thunderstorms.
Let's say our 6 PM position will be:
31.5 N 143W
Day 6 – 10/05/2021
Running late on my simulations again. It looks like the wind took a little longer to materialize. Wind remained in the light 5 kts all day. This evening/night should see wind pick up to 20 kts and veer 90 degrees. Once that happens, we should be gybing to port tack and hoist the small spinnaker or something like that. Let's say our 6 PM position tomorrow will be:
30.5 W 140 W
After this, we should be soon in fairly steady 20+ trade winds. The doldrums seem to look ok for where I intend to cross. For now, I need to continue to remember that I'm in it for the long run and there's no benefit in pushing the boat or myself. Looking after the equipment is more important.
Day 5 – 10/04/2021
Ok, running this routing at noon isn't working well. Let's just assume that I lost 4 hours in repairs or something. I'm starting the routing from the previous expected noon position but at 5PM. We're in light 5+ kts upwind in a sea state that's still slowing us down. This will continue until Tuesday afternoon. There may be rain too. For tomorrow let's assume a 5 PM position of:
33.5 N 137.5 W
There appears to be some disturbance in the Indian Ocean, nothing of concern but the question remains whether it's a sign of early hurricane activity.
It's hard to tell where to cross as the trade winds in the South don't look too well-formed. I'm moving my waypoint a little East at 10 N 164 W. This should have us pass East of HI. This is more West than our first attempt, somewhat going straight for Fiji.
Day 4 – 10/03/2021
PW weather routing continues to recommend sailing due West. Admittedly, this seems to ensure that I stay out of the light wind and get the stronger wind sooner. It also looks like the wind veered a little more, which means that I would probably have had an opportunity to come up on my westing. Wind should be dropping in the single digits as the sun rises Monday. Waves are still on the forward quarter, slowing us down. All in all, this is not essential so I'm focused on maintaining good speed in a reasonable southwest direction. I may have had the spinnaker up, or not depending on how I felt. I'm not about to re-do the same mistake of going hard in the first few weeks, in particular since we're not into well-established trade winds, which should feel better by Tuesday mid-day.
Let's say our Monday noon position will be:
35 W 135 N
The plan remains to pass South of HI to avoid the wind shadows of the islands. I also would prefer to be an area of low-stress navigation (in terms of land obstacles aka islands, atolls, reefs, and such), which is why I'm trying to go straight for the entrance to Torres Strait. The problem with that is the SPCZ. For now, it looks like this approach could work. Regardless, we had to get away from the US Coast, which is, for now, a large area of light and variable wind. This is also preferable in case a hurricane forms in East Pacific.
PW confirmed that long-distance weather routing uses the ECMWF ensemble forecast past 10 days or so.
Routine activities include sleeping, eating, personal hygiene, charging the batteries, getting weather forecast/routing, checking the foils with the GoPro, checking equipment daily, and communications. Time is also spent on repairs, which I don't have yet.
Day 3 – 10/02/2021
Weather routing starting from the noon point shows the following.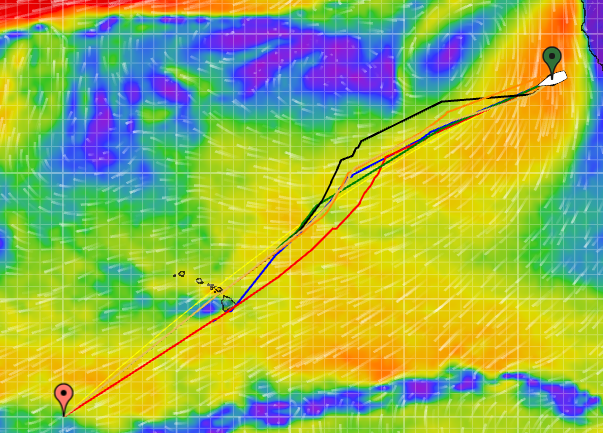 Wind appears to stay in the 20 kts range gusting to 30 but a TWA well abaft the beam (110-130). We're probably carrying the gennaker, or if I was lazy, we may be carrying the staysail and full main. It looks like we'll be getting some rain in 3-5 days and a cloud cover will move in. Let's say our next noon position will be:
35N 132W
I now realize that what I said yesterday about a narrow doldrum passage was not based on long-range forecast, rather I think that PW may be using pilot charts data. I'll check with their support team (this is using the browser version).
Day 2 – 10/01/2021
For a few hours during the night, the wind dropped to 5-10 kts NW, then we were back into synoptic winds. As a result, we didn't quite as far as planned. Let's say that at noon we got to (about 24 NM slower over the 24 hours):
37 35.6 N 124 28.3 W
The PW weather routing still shows all models agreeing that the best route is still due West until Saturday evening. The forecast shows wind climbing to the 20-30 kts range with TWA at 60-70. I don't think that this is really worth it so I'm easing out about 20 degrees. We're probably carrying the genoa or gennaker or staysail, depending on how comfortable I wish to be. With that in mind, on 10/2 noon, we would be at:
36 49 N 127 W
Weather routing with a target point 10N 127 W (well South and West of HI), mostly shows a "straight" route to the waypoint. In addition, the forecast seems to show a narrow band of doldrums, with well-established trade winds on both sides. Of note, there is no hurricane West of Mexico and nothing in the Indian ocean.
Day 1 – 09/30/2021
We drove back to Sausalito with a few final grocery items. Around 10 AM I was off to the "starting line" behind the Golden Gate Bridge as we had planned for a noon departure, with the hope to get out on the finishing ebb.
It was a light wind departure, with several tacks to get out of the Golden Gate. I tried to not lose too much westing but didn't get close enough to the Farallon Islands to see them. We crossed their longitude around 7 pm. The wind picked up to 13 kts NW.
PredictWind weather routing, with a waypoint South of Hawaii, suggests sailing due West, so that's what we tried to do but eased up a bit to avoid too much discomfort. We probably switched to the jib top and 1-2 reefs in the mainsail.
The long-range forecast is not very attractive as it shows us having to go through a large patch of light air. Going West at the beginning is to allow us to position ourselves with the "narrow" band of "strongest" wind. All models agree for the next 36-48 hours.
As a reminder, the Great Circle route to Torres Strait passes North of HI.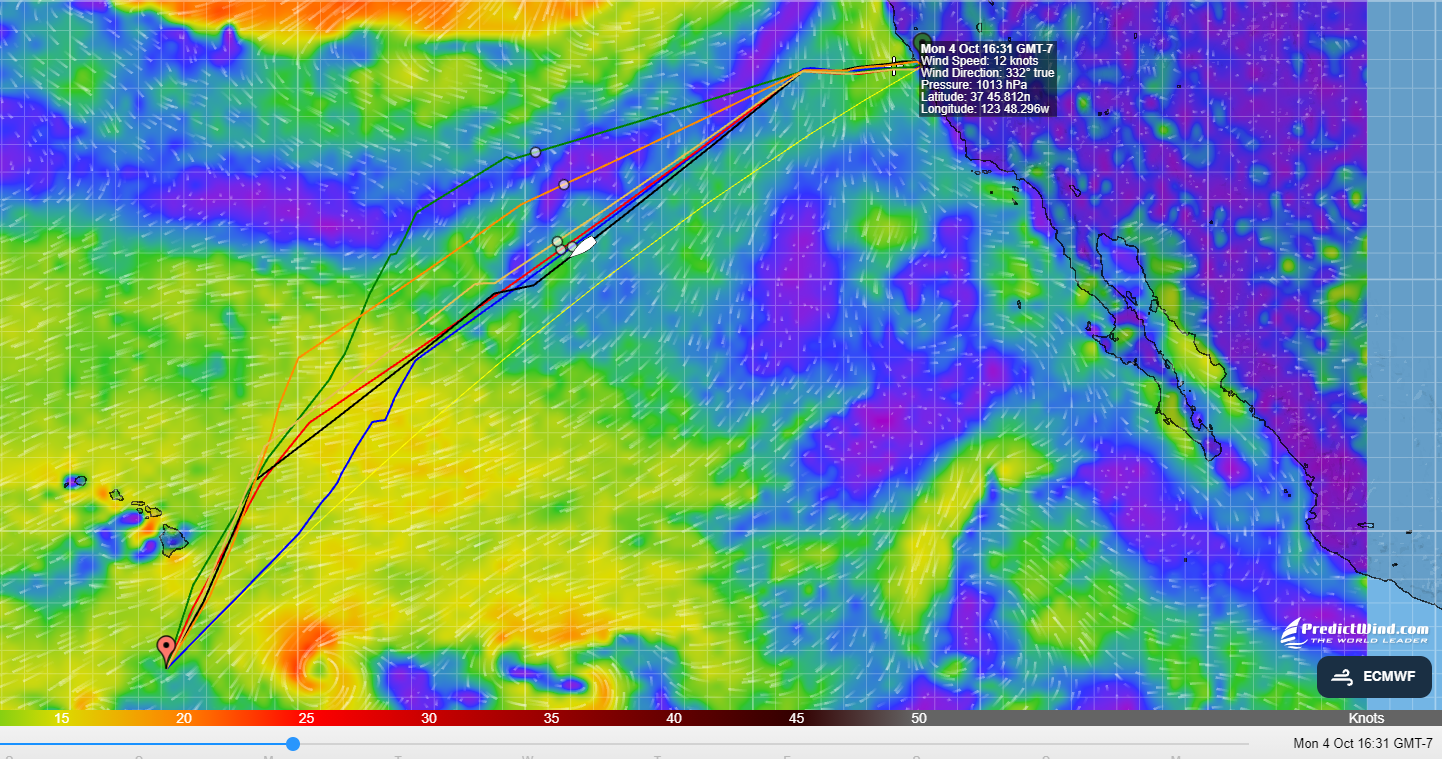 If all goes well, 24 hours later (10/1/21 12:00 PDT) we should be at:
37 35.6 N 124 58.3 W
Day 0 – 09/29/2021
Departed from Half Moon Bay around 10 AM and made my way to the Schoonmaker Marina in Sausalito (coming in with the flood was nice), where my wife picked me up. We went back home and had dinner together.