It was only 10 days ago that we made landfall in Half Moon Bay. It feels like such a long time ago. Here are a few updates about what got done after 6 trips to the boat. We're writing the first chapters of volume II of Changabang's new life, and it's a little boring I gotta say!
A solid mast
After his return from Turkey I was able to check in with Sebastien AUBRUN of PRO-FIL Composites. He built the carbon mast of Changabang. He shared that the mast was designed for the high seas, with an intention for performance but without any compromise for reliability and longevity. Wearable hardware was reduced as much as possible. And it's painted in white, which makes visual inspection for stress damage much easier. So that's all good news.
We moved
We originally settled in slip G44 in Pillar Point Harbor, which was on the commercial side. I had been offered a slip on the recreational side but was originally not keen to change. That's because I must admit that the commercial side feels much cleaner/nicer than the recreational side of the harbor. But after chatting with a few locals I was strongly advised to move because that other slip is a downwind slip; and with strong westerlies/northerlies blowing 75% of the time in the area, it would be much easier to come in and dock alone.
So I moved today and indeed, although the slip is a little tight, I was able to dock alone. Well, to be specific, I was so eager to move during a small lull between rain showers and wind gusts that I overlooked many things: forgot to disconnect shore power before starting the engine; started the engine in forward gear; forgot to set docking lines on the (new) dock side; stepped off the boat with the engine still in reverse. None of this had major consequences. Just a solid reminder to plan, not rush!
Big empty and big clean up
It took 3 trips to empty the boat of everything. And it took 3 days to deep clean her inside. That's done and I am really happy that's behind me. Now begins a slow process of moving stuff back into Changabang. I'm quite overwhelmed with the list of jobs. The past week has been seriously draining. I am longing to set the sails again and practice the good stuff.
Sails arsenal
This is not exactly a strong point of Changabang. There are 3 recent sails that were built in 2018 and saw quite a good amount of usage already: mainsail, reefable genoa, staysail. Then there's an old mainsail, a trashed solent, an old staysail. There are 3 storm sails: a trysail, a storm jib, a smaller storm jib. And last we have 4 free flying headsails: a masthead spinnaker, a fractional spinnaler, a gennaker, a code 0.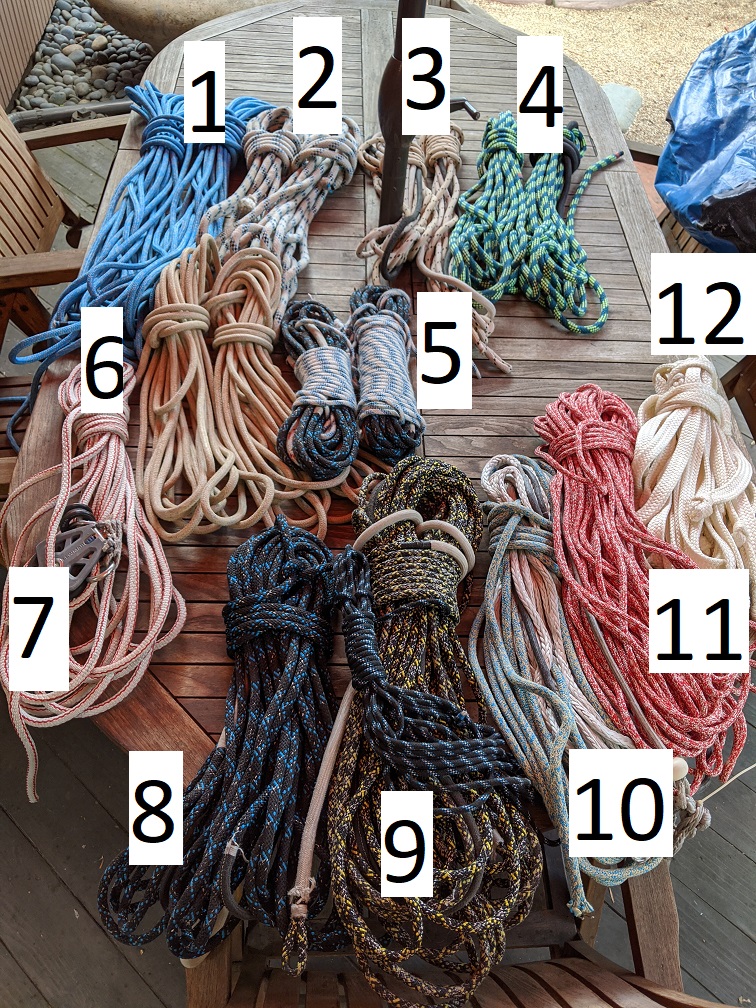 Lines poor
Similarly, Changabang's stash of lines is fairly poor and dated. I'm not even sure which one is which! There is plenty of an old sort of lines, somehow twisted on its own.
Heavy stuff
I cleaned (somewhat) the anchoring gear too. The heavy anchoring gear is stashed in the aft compartment, and it's a battle to lift it out of the tiny cubby it's stored in! I had to purchase a couple bits of hardware to complete the light anchoring gear setup. Both are back on the boat; and I pray to not to have to use the heavy anchoring gear! Since we're talking buying; I've got a dehumidifier and a small fan underway, to keep mold at bay. And now, I'll also need another shore power adapter as the recreational side of Pillar Point Harbor runs on 50A.
I also discovered a home made sea anchor aboard Changabang. Similarly, I hope to never have to deploy it. It's good to know there's one though!
Great progress, what's next?
I'm glad you asked:
Reseal the stern hatch and re-secure the life raft in there;
Adapt to 50A shore power;
Repair engine throttle (may require a complete new kit);
Fix port backstay clutch;
Fix forward hatch leaking handle;
Cross-check all battcars ball bearings;
Repair all sail damage;
Fix aft ballast scoop leak;
Install a new Windex wind vane;
Organize boat paperwork;
On the electronics side: review everything and identify why NKE pilot is/was not working (that in itself may end up being a couple of weeks of work);
Clean, triage, sort, package and re-load all the boat's gear.
And then there are a few required upgrades:
Install solar panels;
Install hydro-generators;
Continue investigating the feasibility of an emergency rudder;
Install messenger lines up the masthead;
Figure out water storage, catchment and manual desalinator;
Replace sat comms with Iridium GO;
And of course all that I don't know yet …
When do we go sailing?
Maybe next week? This weekend?
Oh, I forgot to say: on AIS, we're now "CHANGABANG SOLOSAILR".