On our way from San Diego to Channel Islands Harbor we burned a full tank of diesel. So when we left Channel Islands Harbor we had a full tank and 3 jerry cans loaded with diesel. We needed only half of that to get to Pillar Point Harbor in Half Moon Bay, and some of that was for charging. Once again the usual "if you plan for it you won't need it" happened, which is a good thing. Other unplanned for events happened too, which were not as good. Read on.
Making plans
We arrived in Channels Islands Harbor Wednesday morning. Lee had family affairs to attend to, and Rob had similar business to cater to. I had the day to myself to tend to small jobs on the boat, and to start thinking about the next leg. My neighbor in the harbor, Ollie, was very friendly and invited me for dinner a couple of times (and to sleep with them as well, but I wanted to start to know Changabang so I slept in my bunk).
The forecast looked good for a departure Friday (as discussed with Robert M.) but I would have to do it alone, which is something I was warming up to but had several concerns about. Faith had it differently as a Facebook post alerted Kathi of my presence on her sailing grounds. Kathi and I go back to our Clipper days. We met up and talked about good old days Thursday evening, then decided to have breakfast together Friday morning. One thing led to another, and she was signed up to sail with Changabang on the trip to her new home, about 285 nautical miles.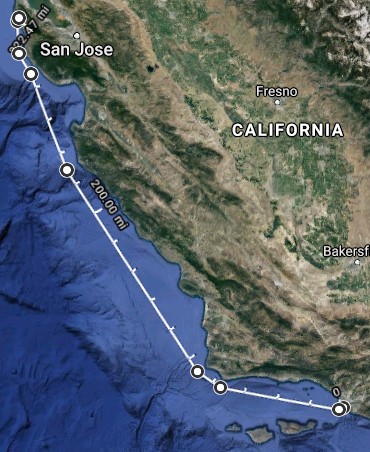 Best sailing ever
After loading gear, food, water and fuel, we motored easily out of the harbor to the oil rig Gina, where we made our first turn for Point Concepcion. Wind was forecast to always be behind the beam and maxing out at 20 kts (with most models showing less than that). This is unusual as most often sailing up North means beating in strong Westerlies/Northerlies.
From there we sailed and motor sailed every time boat speed was dropping below 5 kts. Saturday was a wonderful day with lots of wildlife (dolphins, whales, birds). Wind was variable but most often between 8-13 kts. As evening approached wind started to increase and, after unseamanlike hesitation from the skipper, we dropped to one reef and geared the genoa down to the staysail. Models were still showing good wind behind the beam below 20 kts.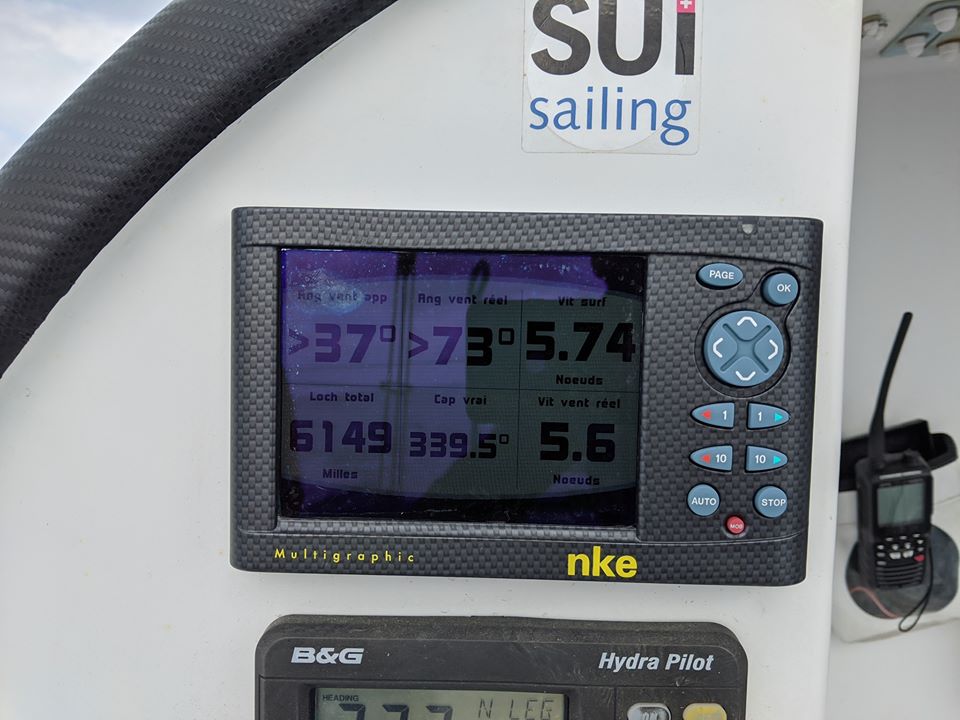 Bang as in Changabang
The night proved all models wrong and it also proved that CaB is a very seaworthy sailboat. Wind started piping up to 20 kts, then 24 kts then fluctuating between 24-28 kts, with gusts above 30 (max I saw was 33). We dropped to the second reef and kept going with boat speed between 8-12 kts, most likely dragging plenty of kelp along. As the wind angle clocked between 120 to 70 of port, Changabang remained mostly flat and was skimming on the big sea. It was amazing how it was; a flying carpet is what I thought of. The old B&G autopilot was handling just fine so Kathi and I remained inside, cozy in our bunks. We experienced the classic videos from the Vendee Globe with water gurgling over the coach roof, as we crossed swell and wind waves. This continued unabated for the night and as we approached Pillar Point we were still seeing 20-25 kts.
Where does trouble happen?
We had had a wonderful and fast ride. Changabang showed she likes offshore sailing. Now it was time to make landfall, and as most sailors know, land can be trouble for boats. We started preparing the boat for landfall, dropping to 3rd reef. We started the engine, pushed it into gear, throttled up and … Nothing happened. The throttle cable was not working. Changabang is not a boat to make landfall under sail in a small craft harbor! Certainly not with a skipper who doesn't know her well. Her turning radius is very wide too.
From then on it was very much a case of a cascading series of problems, including a few hail calls from a concerned harbor patrol. I fiddled with the cable and got nowhere. I thought to heave to and that caused all sorts of troubles, with the autopilot somehow getting stuck in tack mode. We tried to take the mainsail down (I was hoping that the idle would be enough), only to have top battens entangled in the lazy jack and the running back. Throughout all of that I was picturing Changabang on the beach and funny newspaper articles! I got a little cranky and Kathi took the brunt of it (of which I am not proud). Finally we got things sorted out and were sailing South under staysail alone. I made a call to Skip, whom among other things suggested to jerry rig a line to the throttle lever on the engine.
MacGyver to the rescue
After going through the trouble of jerry rigging that line, we decided to make our approach to Pillar Point. So I get the engine in forward, push the throttle and, oh miracle, it starts working!?!? I'll skip through the bit of troubles we had docking, only to say that in the end, all is well that is well.
The trip was by far one of my best sailing experiences. It was fun to be along with Kathi; Changabang handled like a dream (with boat speed well below polars; much to learn still); wildlife experiences were everywhere. And best of all it only took us a day and half to get home. Brilliant!
What's next?
Well, there's plenty to do. I've started emptying the boat to deep clean her. The job list grows; and we have much to add. So keep on following us for future updates, including pictures and funny videos.