I started a new job 5 weeks ago. It's been very intense. Days start early and end late. Since there is a lot of work to do and I like to do a good job most of my energy is spent re-organizing a small team of engineers. I have not yet fleshed out a solid plan for a second attempt at sailing around Earth. Instead, I am doing small (tiny) jobs on Changabang and sailing once every 3 weeks or so. Things could be better.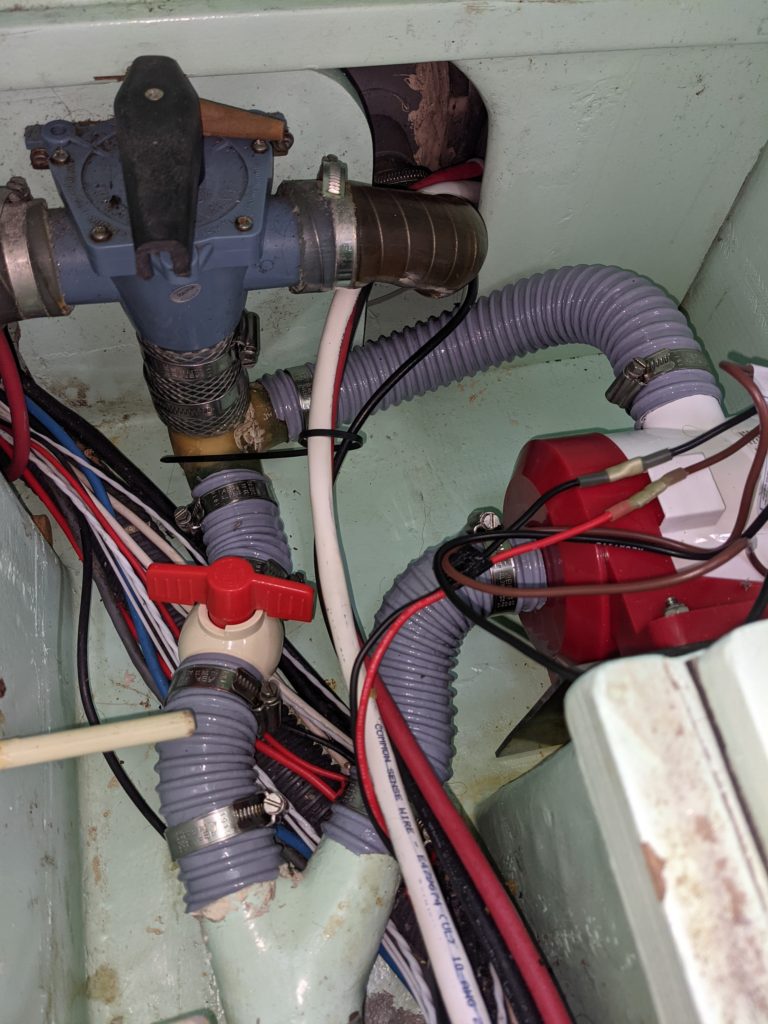 Water ballast system
I have made good progress fixing up the water ballast system. The old pump was not rated for saltwater and I replaced it with a Rule 17 livewell pump. It is very much the typical boat project. Attaching the pump in the small space it's located required retro-fitting a mounting bracket on the previous mounting bracket. The new pump draws 25 Amp, which was tripping the old circuit breaker. I had to upgrade the breaker, install the new 25 Amp breaker on the fuse panel, and re-wire things a bit. Next, I'll try to fix the leaks in the plumbing. Oh, and the joint in the scoop, which was replaced in August, leaks again after holding tight for a while. I can't wait to be able to sail the water ballasts without leaks!
Other repairs
The secondary auto-pilot failed recently. After a bit of troubleshooting and conversing with L&S France, it looks like some pistons (on springs) in the oil pump may be broken. I'll have to order new ones and try a repair.
I replaced the staysail halyard, repaired the zipper on the mainsail cover. Joe of Leading Edge Sails repaired Big (the A2). Considering the damage I did to the sail, we're not 100% sure the repair will work well so I will try it as soon as I receive … the new ATN spinnaker sock. Etienne is very supportive and his products are excellent!
I climbed the mast to install retainer bungee cords on the running backstays (one of them had been torn apart). Then a diver replaced the sail drive anode (which apparently was gone, dropped due to vibrations maybe). And I dove to do a bit of bottom cleaning (a real cleaning is due as I can feel rugged growth on CaB's bottom).
I'm trying to get a marine mechanic to visit Changabang for an engine maintenance. I will have to drive to Ventura to collect a J-125 emergency rudder and then think about how to install it on CaB's "sugar scoop" stern.
It looks like the boom repair is holding up. It hasn't been tested (which is how it should be, none really wants to accidentally gybe!).
I think that's all I can recall for now. Other than the above, I'm writing an article for the Ocean Cruising Club.