Following up on last weekend's work on the autopilot, I ordered a replacement clutch, which I installed today. I think that the autopilot is now ready for action. The next step is to reinstall it aboard Changabang.
Last Thursday a mobile mechanic came over to service the diesel engine:
Engine oil & oil filter
Sail drive oil change
New impeller
New belt
Fuel primary and secondary filters
Installed a fuel bulb between the fuel tank and primary filter to help bleed air out
More maintenance
Saturday I met with Alex to go sailing. The forecast called for light winds so we did a few maintenance tasks. First, we tested the water ballast pump, which took a little time as it was running dry. After a while, I managed to get it going again. I now have a saltwater, high flow pump! There are still some light leaks, including the usual at the scoop. Next, Alex winched me up the mast for a rigging inspection. To my untrained eye, everything looked good. There's one area that I'm not sure about: it could be cracked paint or … I do think that this is heritage and has been so for a while as the tang doesn't appear to be perfectly aligned with the wire.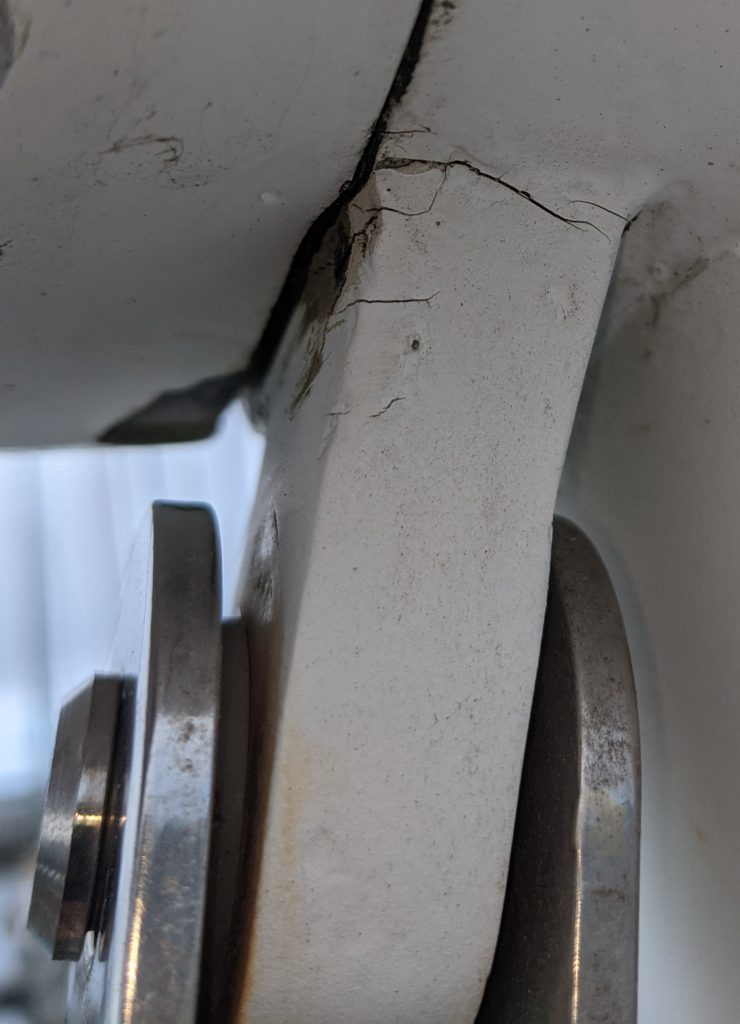 Sailing
After all that, we pushed off and motored into Half Moon Bay, where winds in the 5 kts greeted us. We hoisted the mainsail and the solent. Then we hoisted the code 0 I received from California Condor. As we were sailing I was looking at the boat's polars, and to my dismay, we were doing speed in the 4.5-5.5 kts range, when we should be doing 7+ kts! Argh, I really don't know what to do: the only explanation is that I'm not flying the right sail for that wind range. We had a picnic aboard and then hoisted the A1.5, which greeted us to similar conclusions: slow I am. Bang that, instead, we proudly named the A1.5 "Richie", coz', you know, it's a somewhat reeching kite. Indeed we were sometimes sailing at 70 AWA. Richie then joins Big, and they both have battle scars all over them.
Finally, we turned in for the day, not without talking of possibly signing up for OYRA races.