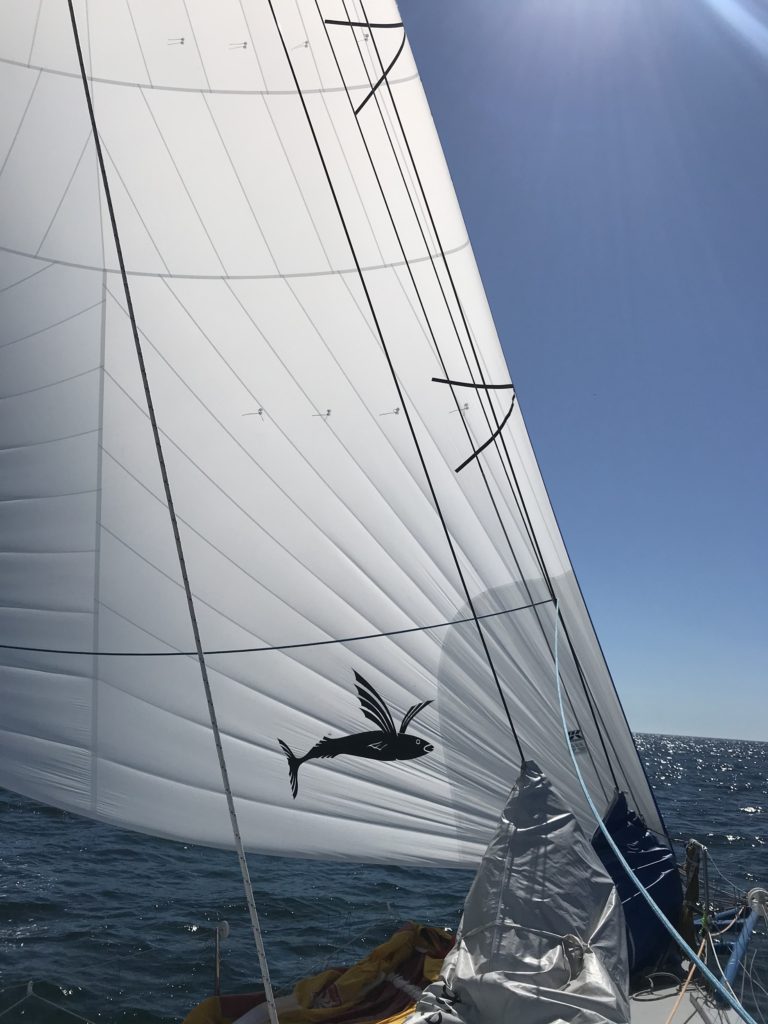 Some of the last items on the list are coming off after an afternoon sail yesterday! Together with Sylvain we went out to test the new spinnaker, which I bought using the OCC grant. Video follows.
We also tested the large spinnaker, which had not been flying well. Sylvain shorten the link between the sail head and the sock. And it now looks great! See video further below. In fact, while Sylvain was aboard, he kept making small adjustments to the mainsail controls. Good stuff!
I also plopped down the hydrogenerator to confirm that the new converter was working well. And it does! I only tested one of the two though.
Not so good
I still have trouble with the 2:1 code 0 halyard, which I'm afraid will never sort itself out. Maybe I need to replace the halyard all together, use the old one for the other headsails. It would make a big dent in my 200 meters spool as it is a very long halyard!
I was also surprised to see that the new bottom paint is not as "aggressive" as the previous one. There's already moss on the rudder and a thin layer of slime everywhere.
I can tell CaB is heavily loaded because we had moved the waterline mark up a bit, and that mark is now below the actual waterline. I'm still due to load a few more cases, books, and all the water (about 150-200 liters). All that weight is taking its toll on boat performance, as we could tell yesterday. At best I'm targeting 70% of the boat's speed potential.
One more bit of not so great news: Android 11 is plaguing Boating HD of Navionics when zooming in (it gets super super slow). They are aware of the problem, and I hope they fix it before I leave!
Paperwork
Stan and Sally Lindsay Honey stopped by a couple days ago to fill in the WSSRC paperwork. I think that's all in order, although I'm still waiting for final confirmation on course and diesel/engine concerns. We also discussed timing the start. I know their very long list of accomplishments, and I just didn't know how to behave. I felt a bit out of place, me with my grand plans, tiny experience, small budget, discussing with Stan and Sally Lindsay, very accomplished/successful sailors. Impostor syndrome all over. They wished me well, and were friendly and everything.
I've also submitted payments for a "weather advise fund" with Chris Tibbs.
That's all for now then.