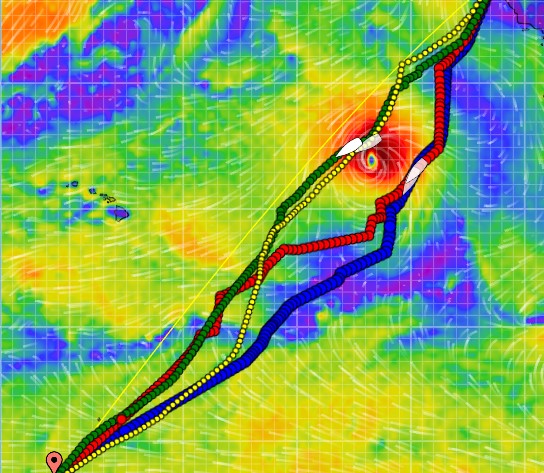 Well, we're in a wind hole again up here along the San Francisco coast. It may dissipate starting Wednesday. But then the South is sending us a parting gift: a tropical depression (TD) is forecast to form in the next two days. I'm "charging" ahead, gambling a few things:
There will be enough wind Wednesday afternoon for me to sail out of coastal waters and into offshore winds;
The TD will remain South enough that I will be able to skirt it without too much trouble, and it won't materialize into a monster;
The TD will not do too much damage to the trade winds (I expect 3 days of very very light wind after its passage).
If not Wednesday maybe Thursday or Friday. Beyond that I think that the alternative is to further delay the start, up to two weeks depending on what the TD does, as it's not clear what will happen after it dissipates. Most models agree to say that there will be very little wind to get started.
Loaded
We're loaded! So much loaded in fact that we are a little slow. All the water is aboard now. The only things left are a couple suitcases with backup devices, and clothing. And me …
Speaking of me, I'm lucky to have friends who know how to fly drones and do some cool edits. Check the video below (a nice teaser), and I'll post more drone shots in a little while. We went out last Sunday to take shots with the spinnaker up. The day turned out really perfect, with winds touching low twenties in the gusts, and boat speed hitting 10 and 11 kts, which is still quite short of the polars (boat speed potential).
If you want drone shots of top quality, hire Keaton. He's 16 and has been flying drones since he was 10! @keatonharephotography
Problem
My phone updated to Android 11. Navionics is dead on that version, which means I'm now short of one chart plotter. I still have the two iPads (no GPS), the Android tablet, the backup primary phone, and two older Android phones (with a subset of the charts). Still, it's a bummer to lose key SW before the start.
Time to get some sleep!