Changabang is back in Pillar Point Harbor. And skipper is happy! What a trip home it was too. There was such a heavy fog that, when night fell, I could not see the end of the bowsprit. And no wind too. I motored all the way, staying on deck at all time, except for 30 seconds trip down below. Entering the harbor at night, in heavy fog, was a little sketchy. At 2,400 rpm we were doing 6.25 kts, which seems like it's about a full knot faster than before. That's quite exciting! Now, it's not like I've done a proper test as most often I'd be motoring in some amount of swell, and yesterday the sea was mostly flat. But it's a good sign for sure!
I'll probably have a separate blog post about my experience in the yard, which all in all was a good one. I'm happy to recommend Berkeley Marine Center.
On the trip back I have not been able to confirm that the WSSRC GPS will get a fix when it's sitting on top of the navigation table display: more research needed. I wasn't able to test the Pelagic autopilot as, with no visibility, I wanted no unknowns to deal with. I have full confidence that it'll work just fine as usual, but things were stressful enough like that.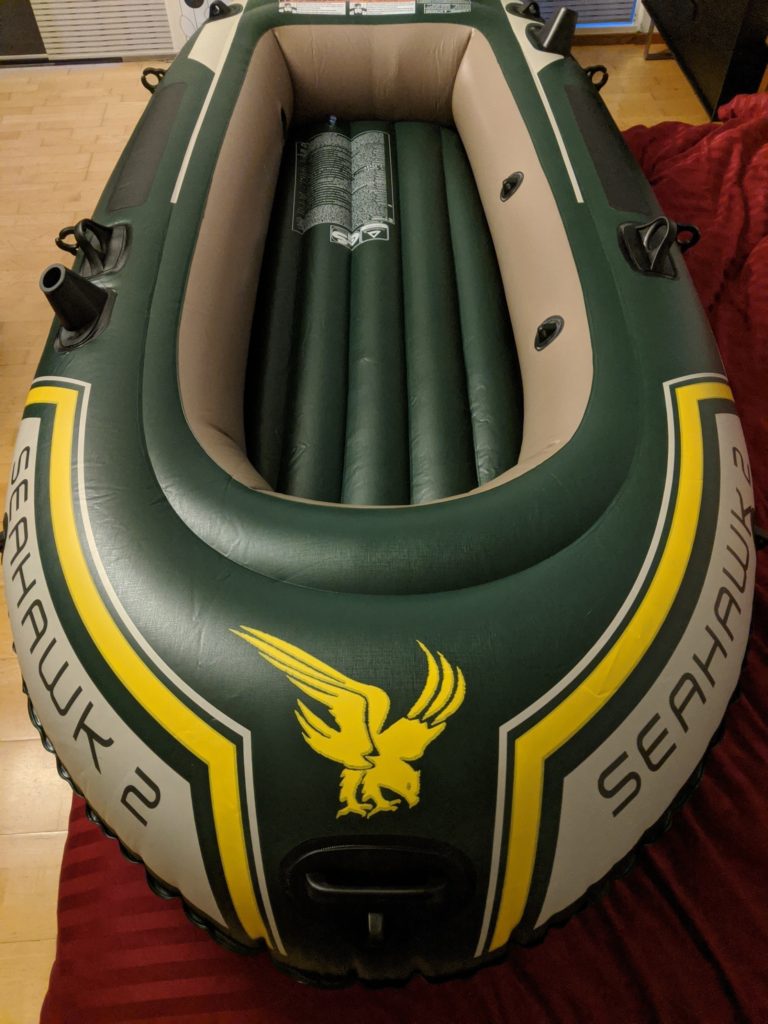 Dinghy!
Yeah, we've got a dinghy now. Why you ask since you're going non stop? Well, first, I may not be able to go non stop, so there's that. Then if I want to do a "walk-around" of the hull, this would be safer than swimming (which I would likely do if I need to clean the hull); it would also be a good platform to affect repairs, which would be otherwise not possible from inside the boat; it could come handy to handle an anchor line or a mooring ball. Now, it's fairly sturdy but I'm not sure how it would handle in swell. And speaking of "handle", the oars are not too sturdy nor large. Anyways, better than nothing for sure. And as my friend Skip suggested, it would make a nice tub for a well needed cleaning!
Should we name it? If Changabang is a mountain, then would this be a funicular (you know to go to the top of the mountain). Maybe "Funi" seems fitting then. "Funi" it is!
Errands
What else is happening? When I wrote my grant request for the OCC, I mentioned in my submission that I pictured myself in the trade winds with my spinnaker out front, proudly flying the OCC logo, a stylized flying fish. And so it's time to make that vision happen! With Joëlle, we tried to make a template for the OCC logo, to paint it on the spinnaker that I'm getting thanks to their grant. I'm not sure how well that will work out. I've also received the ATN sock.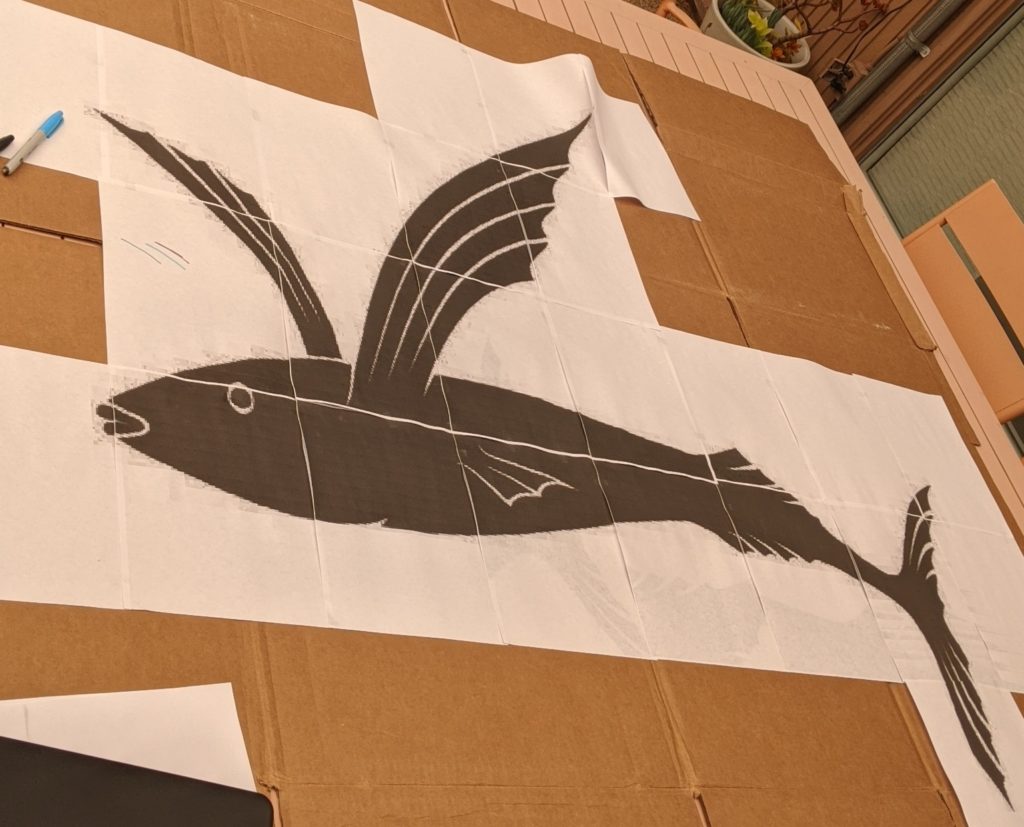 Of course I continue to buy stuff as I think about them, as exemplified in the picture below. Also, a second small USB fan, water filtering pills, spare charging cables, a second floodlight, batteries for the first one, a cigarette lighter plug with 4 USB charging ports, etc.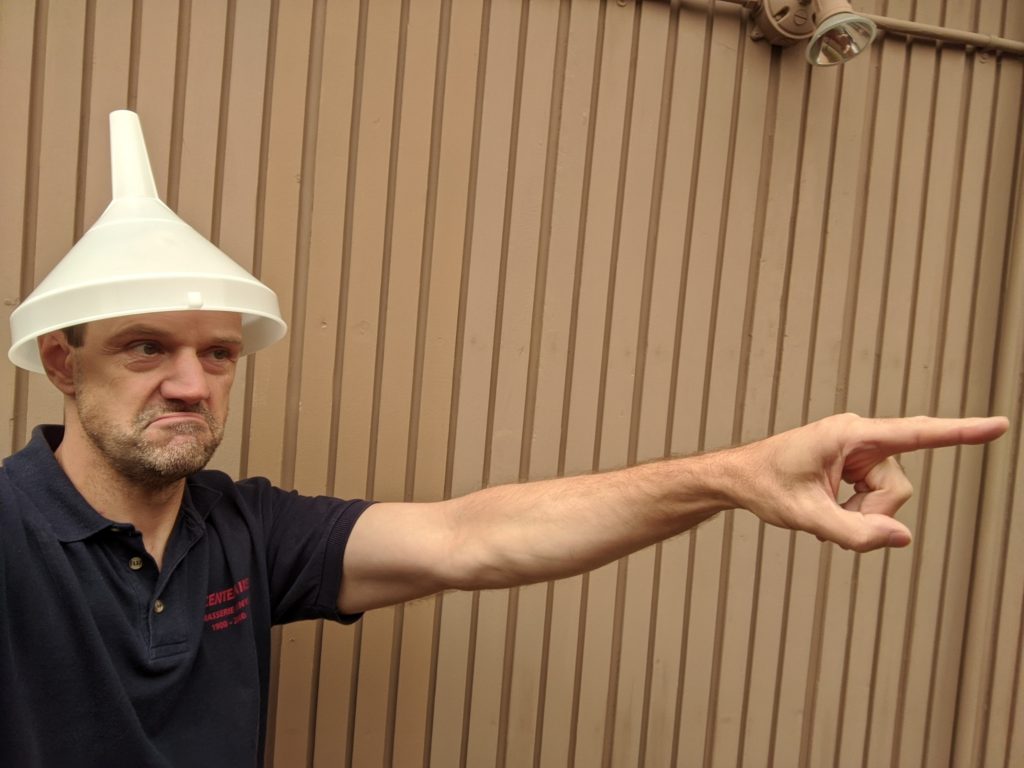 I also tested my second manual water-maker, a generous donation of Randall Reeves. Oh, and the Watt & Sea converters are finally under way.
Loading begins
As we enter the final stretch I'm starting to load CaB. I'm starting with food, solar panels, and a 600 feet spool of line. It'll be interesting to see how all this will find a place inside. I believe it is imperative that I keep everything out of the way, such that I can access all part of the boat fairly quickly. It's already a problem as the ditch bag doesn't fit anywhere yet. More to come.