After many tribulations, we finally have a deposit on a boat. It's the Class40 #31, designed by Francois Lucas and built by Pascal Doin. It's an early generation Class40, simple, strong and recently refitted by Jacques Valente for the Route du Rhum 2018. I'm going to Frossay again to do a final inspection, test sail and maybe move the boat closer to Antwerp, weather permitting. Why Antwerp? I've decided to ship the boat instead of sailing her to San Francisco. I didn't want to take the risk of suffering damage en route, plus the logistics are really difficult and then there is this.
Why I like this particular boat
First of all, I feel good about her. There's something zen about her. She has wonderful looks. For an older, well-traveled Class40 (3 Transat, 1 transequatorial), she still presents very well. I like her and I think she has what it takes to finish the RTW course. Looking at her record she finished all the races that she was registered for, except for one due to auto-pilot issues.
The construction, I was told by the architect, is excellent. It's red cedar strip planking and Epoxy on the hull. She was built at a time when the Class40 was still giving minimal lip service to the cruiser side of the racer-cruiser equation. As a result, it's cavernous inside and space is well organized for storage (allowing for stacking). I can stand straight and not touch the roof. There are some built-in storage spaces. The mast is carbon and very sturdy; the boom is aluminum. There are only 5 through-hulls, which I really like. Although the cockpit is not as well protected as more recent offshore designs, it does provide for an outdoor protected space, which is nice.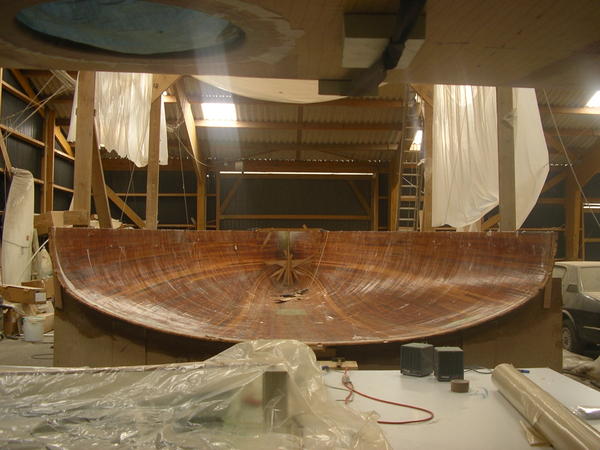 She was recently refitted, with a focus on ensuring that the boat is fresh from the inside out, not so much on getting the latest gadgets, which jives well with my "keep it simple" preference. The deck was stripped of all hardware and repainted. The same was done for the underwater section of the hull. The rudders were dropped and the bearings replaced. The engined was serviced and the sail drive joint was replaced. A new NKE system was installed to provide a primary auto-pilot system. New sails were acquired (of the right type for my project). The mast was inspected and lateral standing rigging was replaced with wire.
I'm being told she's very seaworthy and does well upwind.
Nobody's perfect
There are a few weaknesses. The secondary auto-pilot, although working, cannot be engaged right away (I think it requires a run at the masthead to replace the windvane) and is old (as in "2007 old"). There is no energy generation besides the engine (and a solar panel for when at the docks). There is no watermaker. There is no emergency rudder. Satellite communication is minimalist. Those are the big-ticket items; as always with boats, there are plenty of incidentals.
She's also a little heavier than some of the other boats. And, of course, her design is outdated compared to recent Class40 designs. The 24 hours record was just broken in the Transat Jacques Vabre with a scow bow design reaching 415 NM.
Ultimately, she's the only one standing after triaging for quality and budget. She's the best I can have. I hope to be good enough for her too and that our partnership will be fruitful. Maybe we'll sail together in San Francisco Bay this coming Spring.
And here's a link to pictures.